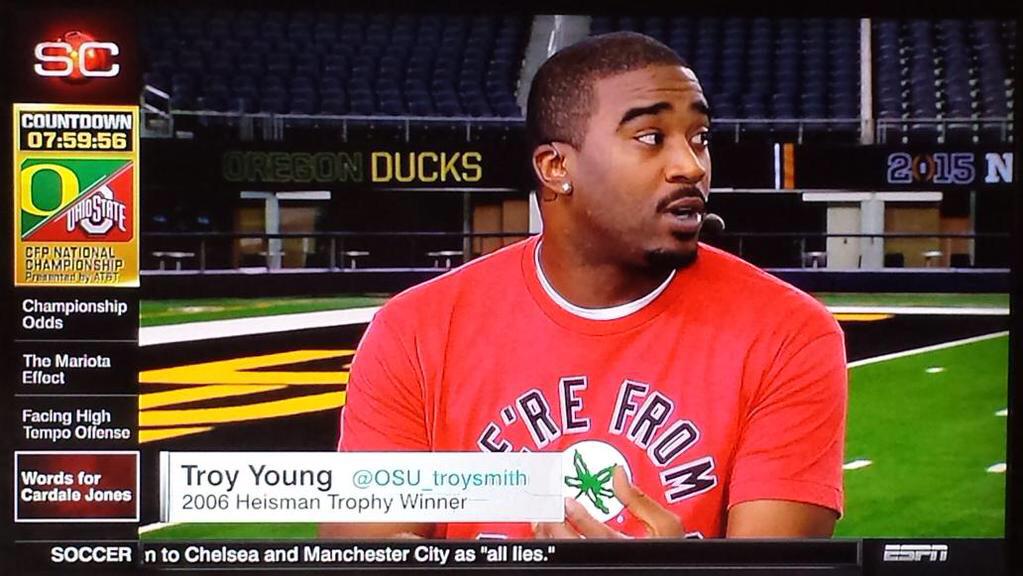 Didn't even take a full decade to forget this loser.
Today will either be the best or worst day in the history of college football. Either we all get to hoist
Mark May
onto our shoulders while celebrating the Ohio Buckeyes falling short in yet another national championship game, or we're forced to live in a Godless world where the most undeserving fan base in the country gets to be happy. Unfortunately I have a feeling the Fuckeyes win this one convincingly. You don't dominate Bama in that fashion and then not show up in the title game. Since today will definitely be about Ohio winning a national title or choking on a gaggle of duck dicks, we're going to live blog this one and just let the inmates run wild in the comment section. A tried and true formula that always delivers. Don't forget to LOL at Fat Face Troy
SMIFF
Young one last time before we kick things off.
8:09 - Doran Grant looks like a horse. And Ezekiel Elliott's face looks like he's having an allergic reaction to shell fish. First impression...Ohio has the advantage in ugly shit birds.
8:11 - Listening to Lee Corso makes me wonder how much longer ESPN is going to let this guy float slowly into insanity in front of our eyes. One day he's gonna show up in just his underwear holding a spatula in one hand and a dead cat in the other.
8:16 - EXPERT PICK TIME! Desmond Howard should make some more friends in Ohio by picking Oregon. LOL. David Pollock hates women's rights but likes the Ohios. And Corso gives his patented curse to the Buckeyes...after accidentally spitting on himself and almost losing consciousness.
8:20 - "REMEMBER MEEEEEEEEEEEEEEE FOR CENTURIIIIIIIIIIIIIIIIIIIES!!" Can't wait to hear this fucking song a billion times tonight. Prime's musical heroes are annoying.
8:24 - How did Urban Meyer make it out of the tunnel without his heart exploding? Lotta flashing lights and loud noises for a guy with heart problems.
8:27 - Mother of mercy! Joey Bosa's nose needs its own zip code.
The Bosa brothers having some family fun
8:28 - That National Anthem would have been way better if done by Total Recall, IMO. Something to think about next year, guy in charge of booking that job.
8:31 - Two minutes before kickoff seems like a good time for sideline interviews. Get the fuck off the field, losers. And someone kill Tom Rinaldi, please.
8:34 - KICKOFF!! Oregon ball at the 25.
8:35 - Hey, guys. Can anyone tell me if Oregon's offense goes fast? More responsible journalists would probably alert the people watching at home to such important information. It looks like it's Thomas Tyner's personal mission to fucking truck every last defender for the Buckeyes. FUMBLE!!!! Oof. What a lucky bounce. Jesus, ANOTHER FUMBLE!!! Check that...knee down, Oregon keeps it. What a crazy start.
8:43 - Oregon TD. Uh oh....that was really fast and easy. Probably a lot of sweaty Buckeye sacks out there right now. 7-0 Oregon.
8:48 - Ohio Buckeyes turn to respond. Already a critical drive for them with 12 minutes to go in the 1st quarter. Good Lord...Cardale Jones is a fuckin load. Good run by him for a first down. Well that didn't last long. Punt.
8:53 - That Taco Bell commercial where the dick wad kid can't decide whether or not to pay for parking so he can shove diarrhea in his mouth is stupid as fuck. Just use the drive thru, dipshit. Oregon ball at the 10. Buckeyes need a stop in order to keep this game under control...and they do on a dropped pass.
9:00 - AVENGERS, AVENGERS, AVENGERS, AVENGERS, AVENGERS!!!!!
9:01 - Buckeyes pinned deep and Oregon nearly gets a safety. The advantage of Cardale Jones. The guy could probably squat on a live grenade and be fine. Huge first down for Ohio. Hell of a catch by Marshall followed up by one of the gayest things I've ever seen...
9:04 - That's a pretty bad spot for Ohio on that 4th down...doesn't matter. First down Buckeyes...touchdown Buckeyes. This is exactly what they needed to do to keep this game from getting out of control. 7-7.
9:13 - Oregon keeps bailing Ohio out with dropped passes. Punt. And apparently Oregon doesn't want to tackle anyone today. This game has officially swung in the favor of the Buckeyes. Missed tackles, missed tackles, missed tackles. 14-7 Ohio on a tough run by Elliott.
9:24 - Oregon continues to hang themselves after such a promising start. Another punt. Buckeyes trying to rip this open in the LONGEST FUCKING QUARTER IN THE HISTORY OF FOOTBALL.
9:31 - First big mistake in this game...Oregon gets it back on a fumble and good thing, too. Ohio was about 5 minutes away from jamming another TD up Oregon's asses. Prediction time: Tyner is going to get a concussion before this game is over. Dude is looking to nuke anyone who wants a taste. Oregon red zone. Oregon turnover on downs after some questionable play calling, IMO. Take the 3, bruh.
9:41 - Buckeyes deep in their own territory again...Elliott bails them out again. This fat faced, big mouthed fuckin nerd came to play. Deep pass by Jones....FUMBLE!!!!!!!! That one hurts if you're the Buckeyes. They were about to step on Oregon's neck with their stilettos. The only thing that's been more entertaining than this game is watching my college buddy absolutely fucking meltdown on Twitter. He's called this game over about 14 different times tonight. I don't think he's going to survive the evening. Oregon does nothing with the turnover gift and punts again.
9:52 - I'll never understand how people allow Devin Smith to catch deep bombs. You would think defensive coordinators would make it a point to make sure the guy who leads FBS in YPCatch doesn't do that in a championship game. Three plays later and Ohio is in total control with another TD. 21-7 Ohio. Should be more like 35-7.
10:00 - Oregon needs points here...any points...or this one could be over with Ohio getting the ball first in the 2nd half. I'm still trying to figure out why a guy who only threw 3 INTs isn't throwing every down. But that's none of my business. This could be the second college QB the Buckeyes ruin for the NFL draft. #KenDorsey Oregon gets a FG to make it 21-10 and Oregon is in deep shit. It isn't often a team has 2 turnovers, is up 11 AND getting the ball first in the 2nd half. Ouch, babe. Halftime after a really moronic trick play.
10:31 - Tim Tenor went the entire halftime show without shouting out RibFest or The MoneyShot once. Pretty rude, IMO.
10:41 - Second half starts with Tom Rinaldi's stupid face. Why is he still alive? Buckeyes ball and Elliott picking up where he left off. This game is probably over if Ohio scores here. Buckeyes driving again and Jones picks up the first on 4th down because he's a fast, giant dinosaur. Jesus...a 3rd fucking turnover for the Buckeyes. Maybe they're trying to set the record for most turnovers in a win. Don't worry, Mariota is already mentally broken. Don't expect much on this next drive.
10:50 - Nevermind. TD Oregon on first play from scrimmage. 21-17 Ohio. Uhhhh...wut? Under review??? Oh Jesus Herbert Christ. You have got to be shitting me.
10:52 - All bias aside...Ohio got screwed on that call. That ball was coming out before the ball broke the goal line. Which brings me to...STUPID FUCKING DUMB FUCK SHIT FOR BRAINS COCK LOVING DICK FUCK! I'm stunned this behavior still happens at any level of football. How many fucking times are idiotic dumb shit WRs gonna do that diva shit at the goal line before they realize how stupid it is?! If I'm Helfrich, Byron Marshall is running sprints bright and early tomorrow morning until he shits and pukes at the same time.
11:00 - Another. Fucking. Turnover. That football is coming out like it's covered in Peter King's belly lard. Ducks in the red zone but only get 3. Four turnovers and only 10 points to show for it. Ohio's red zone defense making those bone head turnovers hurt less than they should. 21-20 Ohio.
11:11 - Let's see how Ohio responds after their 4th turnover. The game plan from here on out for Ohio should be Elliott infinity carries until the clock reads zero. Oregon doesn't have an answer for him. Touchdown Elliot. 28-20 Ohio, end of the 3rd.
11:21 - Hey there! Hold onto your dicks! A Disney movie about cross country. Hoo boy, that one should be a gas! Early Oscar nominee!! LOL. Get the fuck out of here. No one wants to see some bullshit movie about running.
11:22 - Marcus Mariota's brother Matt looks like the fat, nonathletic kid that is sure to be an incredible disappointment to his entire family. He probably eats a lot of ham and Oreo sandwiches. Oregon punts again and this game is about to be over as long as URBZ takes my ELITE advice and just pounds it with Elliott.
11:32 - Another long drive for the Buckeyes resulting in another TD by Elliott. He's a dumb, black, queer and I hate him. But he's been unstoppable and Ohio doesn't win this game without him. Hopefully he does something really black, like rapes a white girl with a giant bag of coke, in the off season and gets kicked off the team.
11:38 - If I'm Mark May, I'm really thinking about deactivating my Twitter, quitting broadcasting, moving to a log cabin in Montana and changing my name to something inconspicuous like Travis Wilkins. Mariota gets hurt because Bosa is a cheap bitch. This game is really over now if Mariota can't make it back. Who am I kidding...this shit is fucking over regardless. Ohio gets the ball back with a chance to slam the door. Nope.
11:55 - One last shot for Oregon. Not even close. Game over. 42-20 Ohio Turd Suckers.
Well, eat it up assholes. You did it. No one can say this isn't hands down the best team in college football. They fought back from a horrid Virginia Tech loss at home and beat all the teams everyone said they couldn't. You're all faggot cunts and I hate you all but the playoff system worked. We have an undisputed national champion, the best team won, you guys got the SEC monkey off your back and you made Mark May eat large quantities of his own shit. Nowhere to go from here but down. The shock of the night had to be Cardale Jones not sounding like a total buffoon during his post game interview. I'm sure people nation wide were cringing as that mic was jammed in his face. I was CERTAIN that a guy behind the infamous "didn't come here to play school" Tweet would sound like a bigger dipshit than Jameis Winston. Sadly, he didn't. That's it for me. All you Ohio fans can eat shit covered dicks. Especially Cakes.