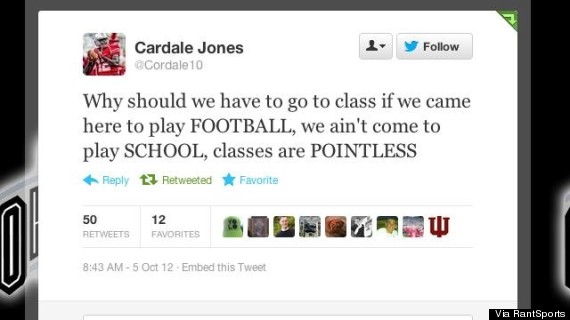 It's sooooo annoying when people force you to put book stuff in your brain thing.
It doesn't get much better than a good old trip to NW Ohio. It's nice to see my parents' house hasn't changed much from high school. My mom is still a borderline hoarder who keeps the house looking like the next stop on American Pickers. And my dad still keeps the house at about 12 fucking degrees in the winter time. I hit up Club Rick's on Thanksgiving Eve with Damman and a few others. Ace and Dut showed up holding each other's dicks about an hour after they said they would be there. Other familiar faces filtered in and out as I faded out. I got pretty slammed at the end there. It actually wasn't as bad as I originally anticipated....and watching Dut fight off the sluttiest girl in the trailer park all night was definitely the highlight of the night. She looked like she regularly sucked dick in exchange for Circle K roller grill meat. Until next year! Maybe.
Michigan vs. Ohio
Well this one went about the way I expected. Hoke sucks all the pig dicks and HE GONE, but at least he can get the team ready to play during the most important game on the schedule. That's more we could ever say about DickRod. Watching Ohio fans sweat out a win against one of the worst Michigan teams I've ever seen was even better in person. Side note: I would feel bad about Barrett getting folded in half essentially ending his season, but fuck Ohio fans. Bad shit happens to the worst fans in sports when you least expect it. Nothing quite like a little karma for Drew being an insufferable Twitter twat with his #IdeLies. Good luck with Cardale "Student AFFLETE" Jones in the Big 10 title game. LOL.
Kosta Karageorge
Yeah. I'd pick suicide in a dumpster over playing for URBZ Meyer also. G$ had some pretty strong Twitter TAEKS about this guy on Sunday. He also had some strong MoneyShot Man Of The Year/Commenter Of The Year TAEKS at the Stube on Saturday. A strong TAEK weekend, indeed. Just know the blog year is coming to a close and we are keeping score. Make the comments count, boys.
Bo Pelini
HE GONE. Now go wash away the pain by shooting up some hard narcotics with your junkie brother. The best part about this is Pelini gets fired for going 8-4 and 7-5 every year. Kirk Ferentz does that shit and gets a raise. LOL. Good stuff.
Mississippi State vs. Ole Miss
Of course they would. Mississippi St. has a fucking red carpet laid down to the playoff and they fuck it up last game of the season. Dak Prescott blows. He should just start working on his route running skills now so he can get a head start on his NFL career. Now we get to continually listen to Ohio losers flap their cunt lips about how they deserve to be in while starting a 3rd string QB. Cool.
Auburn vs. Alabama
I was pretty sauced by this point so I can't tell you much about what happened. I think I was getting tackled at the bar by the time Alabama won the game. The best I can do is tell you I'm pretty sure I was smashing an All-Star special 30 minutes after the game ended. That, and Alabama is good and stuff.
Notre Dame vs. USC
Remember how
people
dipshits were saying this was one of the four best teams in the country? Remember how those
people
dipshits should bong lighter fluid? Notre Dame getting lit up should be old by now. But it's not. Fuck Larry in his stupid fucking ass.
So I'm pretty much mailing this one in. Why? Because I can't feel my fucking fingers and I was way too hammered on Saturday to know what happened in any one specific game outside of what ESPN is telling me. And I fly home in a couple hours. And because fuck you guys. So this is what you get. Columbus was pretty mild, for the most part. No real major exchanges went down contrary to the horror stories I've been told. I think it was probably because Michigan didn't pose a real threat going into the game and most Ohio fans are huge pussies. That and we were nowhere near downtown after the game ended. I'm glad I went but I don't think I'll ever do it again. That place smells like piss and dead football players. Count it.