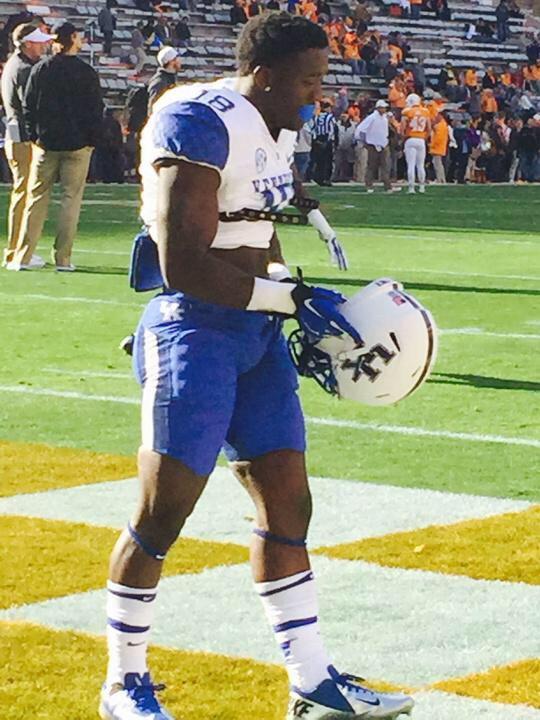 "I make jersey pant shorts look gooooooood."
Holy fucking hell. I don't get sick often but when I do...it destroys my life for a solid week. I can't remember the last time I was this ill from something non booze related. If I had to guess, I would say this is what dying feels like. By Friday I was cutting out the middle man and dumping my meals directly into the toilet. Not fun at all. Hopefully today all is status quo inside my body. Michigan was on a bye this week but Frank Clark made sure the Wolverines didn't stay out of the spotlight for long. Clark was jailed over the weekend for
probably
allegedly beating the piss out of a woman. But at the end of the day you really can't blame Clark for his actions. Playing for Ted Ginn Sr. would turn almost anyone into a violent, laptop stealing, woman beater. UPDATE: HE GONE! Frank Clark dismissed from the football team. Good to see the program do the right thing. Nice life, thug. Enjoy prison. Let's get to it.
Dancing Coaches
This is quickly becoming one of those annoying Internet trends. Have some fucking self respect and stop awkwardly thrusting your crusty body around in clumsy white man convulsions. It doesn't make you sweet or help you identify with your players. It makes you a schmuck and a joke. GIVE IT A REST!
Clemson vs. Georgia Tech
Commenter Jeff loves him some Cole Stoudt! Stoudt looked TOTES prepared to play Saturday after DeShaun Watson was hurt...again. DeShaun TWATson is more like it, amiright?? I saw on Twitter Stoudt had to be consoled by a team mate after getting benched then turned inside out by the coaching staff in front of everyone. Get ready for hilarious QB play for the foreseeable future, Clemson faithful. Word on the streetz (as of Saturday) is TWATson has a torn ACL.
Ohio vs. Minnesota
Okay. Before we get to anything. What the fuck is this amazing shit!?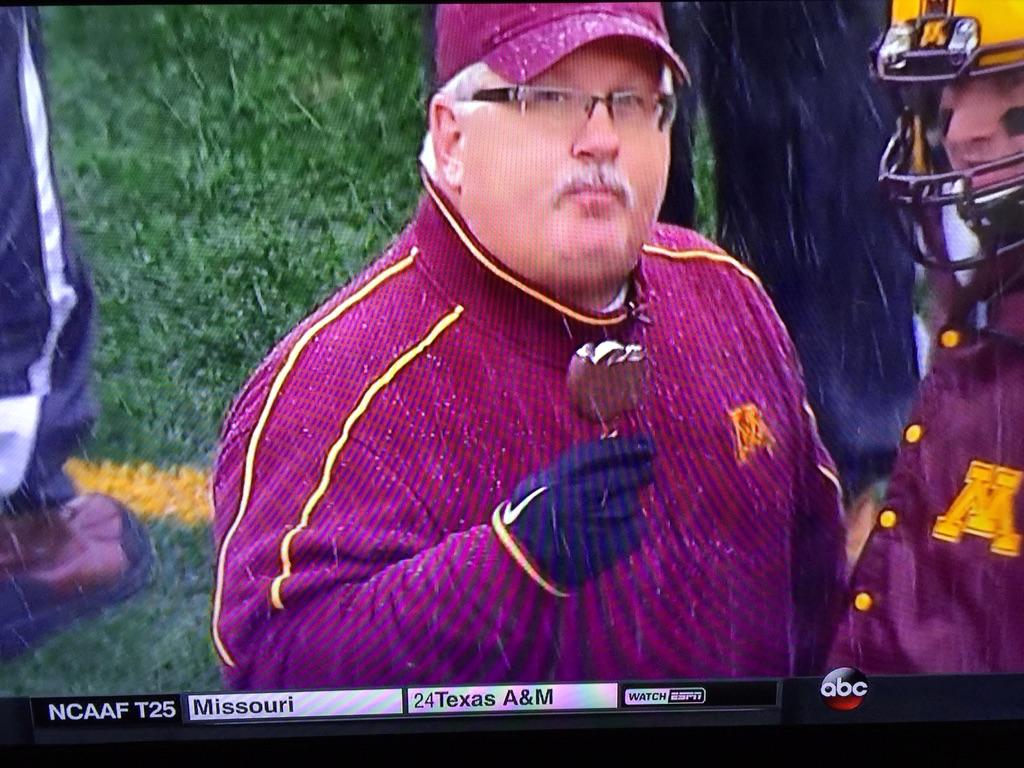 LOL! It's the middle of a college football game and this chubby sow is plowing through a Dilly Bar. "Ice cream helps me coach better. Back off!!" Now, on with Ohio fans chest thumping a win over Minnesota. This game just felt over in the first half despite Ohio doing everything in its power to keep the Gophers in it. Jalin Marshall was the second best player for Minnesota on Saturday while pretty much fucking up at every turn. On the flip side, David Cobb is somehow one of the most UNDERRATED backs in college football and should be a steal for someone on draft day. Real quick...how was Elliott's "Ab Game" on Saturday, Droolz? LOL. In case anyone cares (they don't) Cakes was his usual whiny bitchy self about this game on Twitter.
Florida State
This program has officially crossed the border of insanity. Just when you think FSU can't get anymore like ESU from The Program, another hilarious story about the inmates running the asylum pops up. And there's Jimbo Fisher in the middle of it all with his slimy handshakes and his greaser smile. I'm not sure how fans of this football team can still defend what's happening in Tallahassee right now. But they will because they support rape and are awful humans. A monumental fall has to be on its way.
Nebraska vs. Wisconsin
Melvin Gordon is one sick bitch. I know it takes a lot these days for a running back to win the Heisman but this has to vault Gordon firmly into the discussion. It has to. It's hard to believe this Wisconsin team lost to Northwestern. Who the fuck loses to Northwestern?!
Notre Dame vs. Northwestern
Poor Larry. Poor Brian Kelly. Poor Notre Dame. Just kidding. Fuck everyone associated with Notre Dame. Now would all of you please individually apologize to everyone in the world for being little cunts about that FSU loss and the fact that no one respects Notre Dame. We were right to question everything and you owe us at least an apology. Notre Dame is a bunch of fucking frauds. Always have been and always will be. Eat a foot long Pat Fitzgerald dick sammie. Extra pubes.
Arizona St. vs. Oregon St.
I don't think ASU was ever a real contender for the playoffs so this loss is insignificant unless you happen to be an ASU fan. I guess Ohio fans can be happy they're a spot closer to not making the 4 team playoff at the end of the year. Overall, let's not forget the most important part of this game...it's always great when a team beats Notre Dame and then follows that up with a bad loss the very next week. Soak it in.
Alabama vs. Mississippi St.
This game had snooze fest written all over it before the coin was even flipped but it turned out to be pretty decent. Alabama looked damn good Saturday and found a way to neutralize Prescott pretty much throughout. I love all of the SEC haters out there. And by love I mean I hope they drown in horse semen. It's was incredible watching them piss and moan how the SEC is treated differently when this score was 5-0 in the second quarter. "If this was so and so and the score was this everyone would be..." blah, blah, blah. Shut the fuck up, already. If you really don't think the SEC is by far the best conference then throw yourself into a wood chipper.
TCU vs Kansas
The ghost of Charlie Weis' clogged arteries was alive in well in this fucking weird ass game. Kansas' stadium was comically empty for a game the Jayhawks were in the entire way. I don't get that. Kansas football tickets have to be free to students, right? There's no way the school can realistically attempt to sell these to students. Having said that...wouldn't you, as a student, at least want to go to the games against the good teams like TCU? Even if they weren't free? If nothing else it's a blowout at half time and you can leave happy that you saw one of the better teams in the country live. I don't know...maybe Kansas students would rather go fuck pigs instead.
Auburn vs. Georgia
/throws a stack of papers in the air. I'm fucking done trying to figure out Georgia. They're good, they're bad, they're good, they're bad. Whatever. With how crazy Georgia's season has been, I guess it makes complete sense that as of right now unranked Missouri and not #15 Georgia would be playing in the SEC championship game. Figure that one out.
Todd Gurley ACL
RIP
Florida State vs. Miami
Ahhhhhh. The Criminal Bowl. What a fuckin game. Florida State jizzes rabbits feet, apparently. But I guess just as much credit goes to Al Golden for being a complete vagina in the 2nd half. My Lord...how many more times can FSU do this before they get burned? It's gonna happen eventually, right?! I want to say that Brad Kaaya is a stud in the making but we've been here before with other Miami QBs, haven't we? Meanwhile, Jimbo Fisher continues to be a villainous dick sack. "It's just how we do things at Florida State", he smugly spewed in the post game interview. Get fucked. If Fisher raises his children with the same blind eye he treats his football players with, I would say his son should be a full blown crack addict by 13. And no one would be surprised or feel bad. Some people just deserve a steaming, nutty turd on the chest of life.
Helluva week in college football. So many good games. For a second it looked like a huge playoff shakeup was going to happen but I'm not so sure it does. I think the top four goes Oregon, ROLL DAMN CHILD (ELITE Facebook reference), Mississippi St. and then FSU. That makes the most sense to me based on what I saw Saturday...even though I don't think FSU should technically be in there. There are other teams that I think are better but you can't exactly boot an undefeated team in a power conference who happens to be the defending champ. Even though that would be sweet. That's all today. Fuck off.