I wonder if Verizon has barf protection included in the factory warranty.
That picture...is of a Florida fan who had a very bad night. This moment was captured at half time, by the way. He's probably still trying to piece the night together three days later. I was one of about 30 people cementing this moment in time. In non football related news, Wheelz and I watched Gone Girl. It's a pretty decent flick and worth the watch...especially if you would like to know what Ben Affleck and Neil Patrick Harris' dongs look like. Ide probably already has them as his screen saver on his laptop. If he even has a laptop. He's probably too trendy and hip for something so mainstream. Let's football.
Michigan vs. Penn State
Nice to see Michigan end its spiral out of control into the fiery depths of hell led by Brady "The Fudge King" Hoke. So that's what a Big 10 win looks like! Seriously...what a fucking ugly ass game. There isn't really anything worth mentioning in this game other than Michigan won. Moving on.
Todd Gurley
I'll say again...there is nothing better than the block head athlete. There's no doubt in my mind Gurley took money for his Herbie Hancock. Now we can argue whether or not AFFLETES should be compensated for their autographs or likeness until our dicks are purple. But it doesn't change the fact that it currently happens to be an NCAA violation and Gurley knows that. At least he should or he's more dense than I thought. Sounds like Toddwick is most likely done for the year if you listen to what Fox Sports is reporting. Whatever. He'll probably leave for the NFL and still be the first running back off the board so NBD. Right? Hope it was worth it, shit brick.
Georgia vs. Missouri
Matty Mauk sucks more than his stupid kid name. Matty. Are you fucking five? He looks like a trashier version of Ryan Fitzpatrick. Good news for Georgia is they didn't seem to miss Todd Gurley. Chubb started slow but ended up having a pretty decent afternoon. His YPC wasn't anything to get nude and flop your dick to but he kept the defense honest enough to open things up for Hutson Mason. Who knows how good Missouri is (I don't think they're that good) but beating the piss out of a ranked SEC divisional opponent without your best player has to feel really good. Georgia should cruise until Auburn.
University of Florida
Okay. Something smells like rotten sexually assaulted pussy here. All of a sudden Treon Harris goes from sexual attacker to sympathetic victim?? This is a really bizarre situation and this accuser chick is either a complete fucking mental case or Florida is doing their best attempt at a Jameis Winston-esq cover up. Honestly it could be a combination of both. Anything to keep Jeff Driskel and Skyler Mornhinweg off the field, right? And if Harris was cleared of all wrong doing...why didn't he suit up against LSU? I don't know. It just seems odd. Speaking of sexual assault cover ups...
Jameis Winston
Speaking of Captain Rape-Escape...this cat is the best in the worst possible way. This rape case just will not go away for Winston. And it probably shouldn't. I stand by my original statement that he probably raped that girl and got away with it so I'm glad this isn't getting buried. The fact that Winston seems literally unfazed by ANY of this is just astounding. He either has no idea how serious this is or thinks he is completely untouchable. One thing I would put money on is that all the white Heisman trophy winners from the 70's and earlier have dropped more N bombs this week than they have in their entire lives. That entire fraternity has to just fucking loathe the fact that Winston is a part of their group. Who would have thought that Winston could be more hated than O.J.?
**UPDATE** Now Florida State is investigating Winston taking money for signing autographs. This guy is absolutely incredible. And let's not ignore Jimbo Fisher vehemently defending Winston at every single turn. He's making himself look like a real fucking shit heel and is defending the type of guy that can ruin reputations. I know that's Fisher's quarterback and all but he is really taking a leap of faith with a guy who is constantly fucking up.
Auburn vs. Mississippi State
Turnovers, turnovers, turnovers. Eight of those bitches. For awhile it looked like no one wanted to win this game. This probably means Dak Prescott will be leading the Heisman board next week, right? The black Tim Tenor. Take home that trophy to a bunch of racist fans that would hate you if you weren't awesome at football. I don't have a problem with Mississippi State leaping FSU for the number one spot but they wouldn't be my pick for #1.
TCU vs. Baylor
Hey there points! Hope you gamblers took the over on this one. There aren't many teams in the country that can successfully give up a 24 point lead in the 4th quarter. TCU can proudly add themselves to that very very short list. I don't have a huge problem with TCU going for it on 4th with a little more than a minute left in the game. I get it...the TCU defense was a leaky ass with hangover runs. But that play call was fuckin duuuuuuumb. Somewhere Casey Pachall was shaking his head in disgust in between blowing strangers for heroin money.
Oregon vs. UCLA
That should take care of that whole UCLA being ranked thing. Remember how idiots thought UCLA was a sleeper playoff team? Stupid idiots. Here was the best part about this rectal hollowing: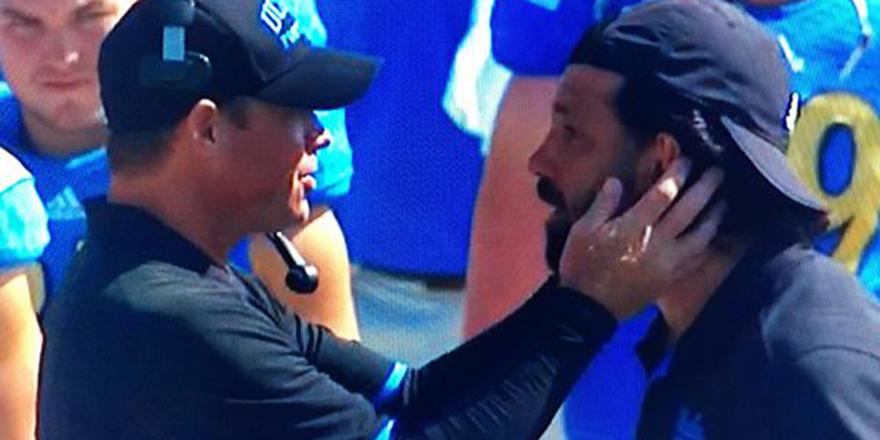 "Hush little baby don't say a word. Mora's gonna buy you a Bruin turd."
Notre Dame vs. North Carolina
Fuck Larry in his stupid fucking ass.
Ole Miss vs. Texas A&M
I think Ole Miss is the best team in college football. Good call, Damman. Lou Holtsshhhh seems to think Mississippi State gets that honor. He also probably drinks ginger ale on purpose so what the fuck does he know? Bo Wallace is putting together quite the resume to completely fool NFL scouts with. He'll be four picking his way into getting his NFL coach fired in no time. Meanwhile...the shine is starting to come off Kenny Hill and it appears he may be *gasp* OVERRATED.
Arizona vs. USC
Let that be a lesson to everyone. Never put a RichRod coached team in the top 10. They're just keeping a spot warm for someone else. The only way Arizona goes undefeated is if they play Oregon every week. FACT. And nice fake fall on the blown kick at the end by Skowron. Fucking loser bitch kicker. Not even Mike Carey is buying that pathetic attempt at a bullshit flag.
A little better effort today since my college football Saturday wasn't taken from me. The Ohio Buckeyes were on a bye this week but I'm sure that won't prevent them from being jiz soaked butt pipers in the comments. It's what they do best. That's it today. Fuck off.