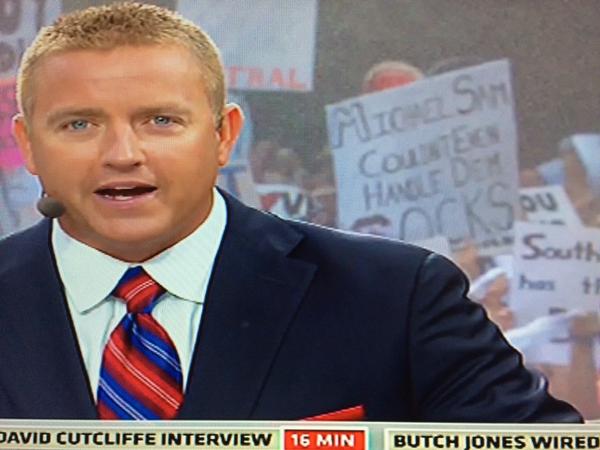 Replace "Michael Sam" with "Ide".
UCLA vs. ASU
I'll admit I didn't watch this game. By the time I was bored with the Redskins letting the kid who eats paste dissect their defense, I was about ready for bed since these Thursday night games have been fucking snoozers. Also the 10pm west coast games are hard to stay up for. So I got caught up on
The Strain
and passed out instead. ELITE show, BTW. I'm still not buying UCLA even after this thrashing. It's not like ASU has ever been known for their defense so I just see this as something the Bruins should have done.
Todd Gurley
He's the best running back in college football. Period. Anyone who disagrees should be force fed baked turd patties. Baked because I'm concerned for your health. Speaking of turds...Peyton Manning looked like a 65 year old retired golfer on the Tennessee sideline Saturday. I don't think he could have looked any dorkier if he tried. Man...Georgia is at least entertaining, aren't they? Todd Gurley puts Georgia ahead...then Georgia's defense lets the opposition go right back down the field. I can't imagine how stressful being a Georgia fan this year has to be.
Michigan vs. Minnesota
Yeeeeeaaaaaaaah, Minnesota! Blow us out! /takes a swig of Wild Turkey from the bottle. Fire Hoke. Fire Brandon. Let's address the elephant in the room here. That promotion that the University had with Coke was a flat out embarrassment. The back tracking was even more pathetic. Hope Solo's mangled crotch beef had a better look/public reaction. So take your jabs because anything you say here isn't original or clever. Now the game:
Shane Morris failed miserably Saturday. I can't remember a QB being worse with more on the line, as a matter of fact. I haven't seen football this bad since the DickRod days now that I think about it. I know Morris was playing hurt and I admire the balls for pushing through that but it's not like he was playing well pre injury. He was rat shit well before getting hurt. Honestly we could be the worst team in the Big Ten. While Michigan was getting dominated in every facet of the game, the announcers were STILL saying that they didn't think Hoke should be fired. Well...before Hoke decided to put a guy back in who couldn't tell you what planet he was on, anyway. Go die in a fucking tar pit, idiot announcers.
Brady Hoke
Oh boy. People will let a lot of shit slide when it comes to football. You can be a dick. You can be hard to work with. You can break contracts by faking heart attacks. You can even be a degenerate asshole that purposely tosses criminals and drug addicts in uniforms just to win games. But putting a kid's life in danger by playing him while concussed? Bad. Real bad. That's a good way to make sure you never coach again. All jokes aside, this is completely negligent and the fact Hoke is claiming he didn't know/think Morris was concussed is shameful and insulting. Morris had to be stabilized by a team mate after getting jacked in the chin for fuck sake. You can't look parents in the eye on recruiting trips anymore and promise you will look over their children after a disaster like that. No one will believe you again ever. And they shouldn't. Honestly, I wouldn't be surprised if Hoke is unemployed before this officially posts. Hoke at Michigan just keeps getting uglier and uglier. SMDH.
*Monday Update:
As of 10PM Monday Hoke is still employed at Michigan but things just continue to spiral out of control. Hoke addressed the media about Morris' injury and made no mention of a concussion or possible concussion. He was bluntly asked and boy was it bad.
http://bleacherreport.com/articles/2215128-brady-hokes-collapse-continues-with-poor-job-handling-shane-morris-injury
Bonus points to Dave Brandon for being a huge pussy by darting into the shadows and tossing his boy out to the media wolves alone. Not saying that I feel bad for Hoke, but this is Brandon's guy and he should be up there getting filleted as well. The fallout from that game and how poorly everything was handled with Morris is already brutal as at least one 4-star recruit as already decommitted from Michigan. Word is at least 3 other commits have decided to take official visits to other schools. Who knows how many more this week. Someone needs to stop the hemorrhaging.
Florida St. vs. NC State
For a second FSU was getting a dose of the ol' rapey cock from NC State. Then FSU realized they were better and pulled away very very late. Jacoby Brissett had himself one hell of a game...then died in the red zone late in the 4th quarter. He looked dead, anyway. I bet the Gators wish they still had this cat over Jeff DriscLOL. Speaking of LOL...Florida State's defense.
Ohio vs. Cincinnati
Anthony Schlegel. Still got it. I was hoping for a sack celebration dance after body slamming that Ohio Buckeye turd sucking fan through the turf. So Cincy got blown out. Big deal. Drew still likes to snort dick skin like cocaine and openly begs to get fucked by rolling pins. If not for Cakes he would be the most annoying cock face on Twitter. FACT. That award on Facebook, however, easily goes to Ide and it isn't close. He probably jacks his little vanilla twizzler to all the "hilarious" posts he puts on my wall. Apparently New York is super exciting since he's trolling my Facebook wall constantly. His Facebook antics probably get quite the spirited chuckle from his celebrity pals in the VIP room while drinking $1500 a bottle champagne that was made in a Snow Leopard's womb.
Nebraska's uniforms
Just sick. Dirty as fuck. I've never really been one to get boned up about uniforms but these were pretty awesome. Bo Pelini doing the uniform reveal, on the other hand, was all the LULZ.
Notre Dame vs. Syracuse
Fuck Larry in his stupid fucking ass.
Missouri vs. South Carolina
Man. South Carolina just can't seem to get out of their own way. It's funny though because Spurrier seems like a real Grade A dick nose. I was good and shit faced while this game was going on so I really can't tell you a whole lot about it. Drinking an entire bottle of rum tends to make your brain not remember stuff. All I know is that there were ELITE Michael Sam signs a plenty on the Game Day set. Honestly...what the fuck did they think was going to happen? You're just setting it up on a fucking tee for these drunk college assholes to slam it out of the park. A gay guy's former team playing against a team called the Cocks is about as no brainer as it gets. They HAD to know these signs were coming out by the millions.
That'll be it today. We can also kick around Charlie Weis fired/fat jokes today if you care to. Weis was shit canned from Kansas over the weekend like they think they can get better than Charlie the Hutt. Not saying that Weis was good...because he isn't...but I don't know who else they think they're getting that will be better. It's fucking Kansas football. Ohio Buckeye fans should be pretty big cock sucks today. Wait...that's every Tuesday. Fire Hoke. Fire Brandon.