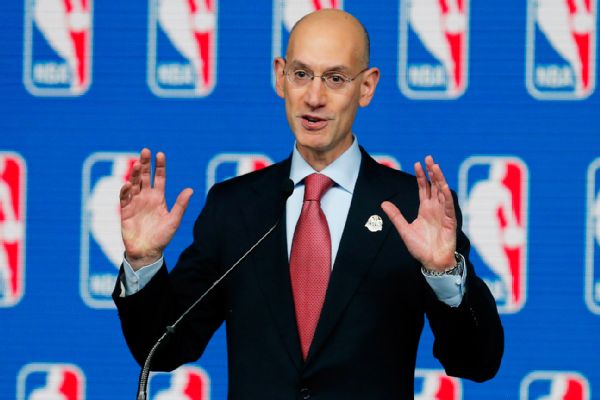 This is how I honk the hooters of fat chicks
Oh yeah! There is another draft tomorrow night (and the NHL Draft on Friday BOOM!)! I'm in roster rebuilding heaven right now. Welcome once again to G$'s (and to a far lesser extent, Iceman) NBA Lottery Mock Draft! What a year to be doing this! The Cavs are back in the leadoff slot. The Pistons are absent which sucks because I think that I've nailed their pick the last two years. As I mentioned yesterday, we did this twice. Once before Embiid went down but then we had to scrap it because too much changed and then the draft that you are about to slog through. Iceman is picking the odds and I've got the evens (the evens have much more ELITE picks IMO). Let's draft! Iceman's Cavaliers are on the clock!
1. The Cleveland Cavaliers select Jabari Parker, SF, Duke
I would have done naked, drunken Cat Jacks until my nuts were purple if Joel Embiid would have broken his foot AFTER the Cavs drafted him. But none of that happened and Cleveland will most likely take the guy they should have taken from the start. Parker is probably the most NBA ready prospect in this draft and the Cavs can finally attempt to fill that LeBron sized hole at SF that was left a few years ago. Even despite the foot surgery I STILL would not completely rule out Embiid here since Dan Gilbert is real life Elmer Fudd. But I'm 95% on Parker to Cleveland.
G$'s reaction: And to think, if you told me three months ago that the Cavs would draft Parker, I would have let you fuck me until we both bled (ELITE daydream material!). Now, somehow, I'm a little disappointed. But we will be better. That is certain.
Iceman: Fuck. You. Take a good look why Cleveland should never get the #1 ever again. It's never good enough for you assholes, is it? Gracious! Now you have to "settle" on the best SF prospect since LeBron. HOW TRAGIC!!!
2. The Milwaukee Bucks select Andrew Wiggins, SF, Kansas
Since this is now a two-man draft, Wiggins is the BRAH for the Bucks and their new owners can give themselves awkward white guy high fives. They don't have much depth on that roster but you could do a lot worse than building around Wiggins and The Greek Freak and hopefully Larry Sanders can stop sending himself to the ER.
Iceman's reaction: The NBA loves their Canadian lottery picks!
3. The Philadelphia 76ers select Joel Embiid, C, Kansas
It's not that crazy. Embiid is supposed to be the best center prospect in a decade, right? Shit. Nerlens Noel went 6th overall only 4 months after ACL surgery and Embiid is supposed to be twice the player Noel is with a shorter time table for return. Stress fracture surgery, on average, heals in 8-14 weeks. From what I've read and without complications, anyway. Even on the high end of recovery that means Embiid is good to go by October/November. Embiid isn't dropping out of the top 5 and Philly has 2 picks in the first round. It's definitely high risk/high reward but if any team can afford to make the gamble early and wait for it to pay off later...it's the 76ers. They've been here before.
G$'s reaction: Man, that is risky. A big man with back and now foot problems should not be going in the top 5 ever. Hell, he shouldn't be going in the top ten. I feel awful for the kid though because he had everything going his way but his body failed him. If they can both get on the court at the same time, a Noel/JoJo frontcourt is very interesting.
4. The Orlando Magic select Dante Exum, PG, Australia
Colin T seems to love this kid which is hilarious because there is no way that he has ever seen him play. Look, the Magic PG situation is worse than the Cavs SF sitch and it needs to be addressed finally. Exum is the best PG in the draft so you take him. Then you sit Jameer Nelson down for a nice chat and Jacques Vaughn can sneak up behind to strangle him to death. It's pretty easy.
Iceman's reaction: I'm not going to pretend to know a lot about Exum but he seems to be everyone's sexy PG pick. He's big and he's not Jameer Nelson so it could definitely work. Or he could be Rodney Stuckey.
5. The Utah Jazz select Julius Randle, PF, Kentucky
This is more value than need. There was a time when Randle was considered the top overall pick so you can't pass on talent like that at 5 even if you technically don't need him. And the foot problems don't worry me. Even though he is hilariously left hand dominant, I like Randle's game. He reminds me of Zach Randolph but with fewer voices in his head and more petite chest beefers. Worst case scenario when ANUS Kanter finally completely flames out you can just roll out Favors at C and Randle at PF.
G$'s reaction: I could see this. His foot actually does bother me. I don't want to see him in LA or Boston though.
6. The Boston Celtics select Aaron Gordon, PF, Arizona
This is apparently a lock to happen as Opie Ainge loves this kid. I don't. In the NBA, everyone can jump. Sure, some do higher than others but you sort of have to score. Gordon can't shoot...from ANYWHERE. He's pretty much a newer-smelling version of Tyrus Thomas (who sucked) in that he has gobs of athleticism but can't really do anything meaningful with it. Which makes me happy to draft him to Boston who I absolutely hate.
Iceman's reaction: Agree. Gordon feels like a bust to me. Looks like Jared Sullinger doesn't have to launder his own bras anymore. Rookie hazing rules.
7. The Los Angeles Lakers select Noah Vonleh, PF, Indiana
The Lakers front court is a mess right now. Well, the whole team is a disaster to be fair. Vonleh is a walking double double and rebounding almost always translates to the next level. Who the fuck knows how long Gasol will be around but while he still is, he and Vonleh will bring nice size down low. I almost took Marcus Smart here but I like the idea of him trying to out-crazy Boogie Cousins and knocking up Mrs. Prime in SacTown instead.
G$'s reaction: I keep seeing Vonleh's name going higher and higher and that is terrifying because he did nothing at Indiana. The Hoosiers were fucking terrible last year but since I didn't watch any of their games, I will assume it was because Vonleh was rotten. Black guy named Noah? LOL No.
8. The Sacramento Kings select Marcus Smart, Insane Person/Guard, Oklahoma State
FUCK YEAH, SON! Time for Prime to move out of Crazy Town, USA. You're my butterfly...sugar...baby! It does make some sense though. Isiah Thomas isn't all that great and they could use a two guard as well (even if he does come off the bench). It's amusing that the Kings have all the talent in the world but always blow big dicks. Why? Because the cupboard is always stocked with crazy. I don't know who their coach is but he should be on suicide watch.
Iceman's reaction: There's no better city for Smart. He and Cousins should be robbing liquor stores together in no time. I wonder how fighting over Mrs. Prime will effect team chemistry...
9. The Charlotte Hornets select Doug McDermott, SF/PF, Creighton
Home boy can flat out shoot the J. Just a violent scorer. People want to dissect Doug E. Fresh's game saying shit like, "He's too slow to play SF and too small to play PF" or "He's a sloth on defense". Yeah? No one plays defense in the NBA, bruh. The best way to get forgiveness for getting roasted on defense is to score a lot of points on offense. It's worked for David Lee all these years, right?
G$'s Reaction: I like this pick. He will look great next to last year's lottery reach, Code Man Zeller. But it makes a lot of sense. He'll be a good bench scorer in the league for a decade. If you're starting him though...yeeeeeesh.
10. The Philadelphia 76ers select Gary Harris, SG, Michigan State
Real Talk--If Harris wants to be a FACTORBACK in the NBA, he absolutely has to live in the weight room. He's got a lot of skill as we all have seen though (and probably isn't a cancer like Evan Turner). All of a sudden, the Sixers have a corps of MCW/Noel/Harris/Embiid and the cap space for two max contracts. Whoa! That's not a bad place to be in. There is some major talent on that team. Risky, OBVZ, but the ceiling is way high.
Iceman's reaction: I don't think Harris will ever be a stud in the pros. But I can definitely see him being a Jamal Crawford type guy for a decade. If the draft plays out this way for Philly and all these guys stay healthy? Holy Shit.
11. The Denver Nuggets select Nik Stauskas, SG, Michigan
HE ON! OH CANADA! POUTINE! Randy Foye is a platter of butts and Stauskas solves the Foye seeing the court for more than zero minutes problem. OBVZ Stauskas is an ELITE shooter but has developed his game to be more than just a deep threat. Fun Stauskas fact: Wheelz' sister and Stauskas' girlfriend, Taylor Anderson, used to be best friends. We all went to Wheelz uncle's Michigan lake house mansion about 3 years ago for 4th of July. Anderson started dating Stauskas shortly after and became a complete uppity bitch, according to Lil' Wheelz. Anderson is also as dumb as she is hot. In high school she kept confusing North and South Carolina so she started called them "Upper" and "Lower" Carolina. LOL. What a gem, Nik.
G$'s reaction: Cool Story Bro! I don't know. I just have a hard time drafting that pencil-necked geek in the lottery. I guess that I'm just racist against nerds.
12. The Orlando Magic select Dario Saric, SF/PF, Croatia James Young, SF, Kentucky

By drafting Exum and now Saric, Orlando is going to be covered in Fran Fraschilla skeet. With Afflalo (for the time being) and Oladipo in the fold, drafting another SG made little sense. They need someone to come in and push Andrew Nicholson and Tobias Harris to either become studs that they can be or be bench role players. Saric should fit that bill. Nothing wrong with some roster competition.
Iceman's reaction: Saric's draft sheet isn't very encouraging to read. Jump shot needs work, game may not translate to pros, doesn't dominate against better competition. I'm not sure why everyone is so psyched about this guy.
That Saric cocksucker is staying in Europe for two years and I'll damned if I waste a pick on any of those shitbirds from UCLA. Young can shoot. We'll take him in Orlando.
13. The Minnesota Timberwolves select Adreian Payne, PF, Michigan State
I'm really 50/50 on Payne. He has the talent to be a star in this league but he also has the maturity of the kid in my kindergarten class who showed his dong to the girls inside the tire fort on the playground at recess. What worries me is that Izzo won't be around next year to rope Payne back in during those stretches when he mentally checks out. If Payne doesn't get the support system he needs we might as well just start calling him JaVale McGee.
G$'s reaction: Wait--is that a thing? I can't recall Payne having maturity issues. Did you consider his friendship with the cancer girl to be a character flaw? He sure as shit doesn't remind of Javale goddamn McGee. That's just mean. I'm a big fan of Payne and once the Wolves unload Kevin Love for about 20 cents on the dollar, Payne is probably the right kind of player to fill those shoes. Just a reminder that Minnesota has Flip Saunders as President AND head coach. What a franchise!
14. The Phoenix Suns select Rodney Hood, G/F, Duke
The Suns were a pleasant story last season and possess a really entertaining roster. They have good bigs (and Alex Len--who is not a good big) so they could use help on the wing. After Eric Bledsoe and Gerald Green, they don't have much. A sharp-shooter like Hood could definitely fill a role in that rotation.
Iceman's reaction: Getting such a tremendous shooter like Hood this late is proof of how deep this draft is. P.J. Tucker is hilarious as a starter and the Morris boys are pretty average. Hood is an immediate upgrade.
There you go. It was tough to keep passing on Aaron Craft but I just didn't see a roster that was in dire need of a faggot. Enjoy the NBA Draft tomorrow night, jerks. Hopefully, Simmons keeps his annoyingness to a minimum and Jay Bilas talks about everyone's upside, STREMPH, and LEMPH. And so help me God if there aren't ample Fran Fraschilla HOT EURO TAEKS. GO CAVS! BE SMART FOR ONCE BUT NOT MARCUS SMART!