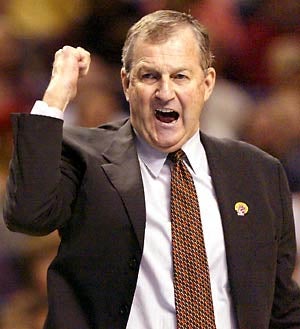 "Let's win this one for bourbon!"
This last Saturday I was in Turd Bucket, USA or better known as Ashtabula. Most fart face Ohio fans know this landfill as the home town of Urban Fistyourself Meyer. Let me tell you this. It TOTES makes sense that a trash ball like URBZ would call a place like Ashtabula his home. What a fuckin dump, man. It looked like a town ravaged by an end of the world apocalypse. Everyone was fat and toothless, too. It makes me happy to know that URBZ is complete white trash at his roots and there's nothing he can do to change that. Moving on. Since there was a semi-important last college basketball game last night and live blogs write themselves and I'm lazy...guess what? Well. You can do the math.
8:32 - This has to be one of the top 5 dumbest stadiums to watch a basketball game in. Especially in the nose bleeds. Hope you enjoyed paying a million dollars to watch a game on a giant jumbo tron. Dip shits.
8:34 - Clark Kellogg just called his wife "Lover Girl" and gave her a happy birFday shout out. My wife said she wants me to start calling her that. My response was a fart from my butt.
8:36 - G$'s favorite analyst Doug Gottlieb just said a bunch of words while dribbling a basketball. I'm assuming it was something about credit card fraud and the struggles of being gay.
8:38 - My dog is already bored with this game and is snoring like a bastard a foot from my face. This should be an easy blog to write.
8:43 - You should be ashamed if you enjoy anything composed by Kid Rock. What an absolutely miserable performance. Just a sweaty trailer park hog. With Hepatitis. Probably Urban Meyer's best friend.
8:48 - In case you forgot how shit Kid Rock is, here is another sample. Speaking of stuff that is terrible...I hope you're ready to get eye fucked with a thousand Capital One commercials tonight. I'm already hot with Seal rage.
9:05 - HOOTIE doing the National Anthem!! In Texas of all places!!! Ide does not approve. HAAAAAAAAAAAAA-ONLY WANNA BE WITH YOOOOOOOOOOOOOOU! Normally I beg for National Anthem fuck ups but I'm glad Hootie nailed it. Woulda set black country artists back 30 years.
9:15 - Tipoff. I really hate Julius Randle's big dumb smile. I don't know why. Maybe because it's Joker like and just stupid.
9:16 - Uconn's guards are fucking tiny. The Harrisons just tower over them like dopey giants.
9:18 - Julius Randle with an early exit...and what the fuck is Cauley-Stein wearing under his jersey?? I'm pretty sure it was a mu-mu. Or a shirt made from his grandmother's hot pan holders.
9:20 - That Napier steal was pretty bogus. My first impression is that Uconn is going to run away with this one eventually.
9:23 - Holy shit Gary Busey is still mentally insane. What an absolutely brilliant commercial. In case you missed it, Google search "Amazon TV Gary Busey." You're welcome.
9:24 - What the hell does Napier do with his legs when he shoots? Mister crazy legs. Just heard that Julius Randle's idols are Tony Romo and Dez Bryant. LOLOLOLOL! Great choices, loser. No chance Kentucky wins now that I know that. Timeout. 17-8 Uconn. Smartest thing Calipari has done all day.
9:31 - Just got up to piss and saw the wife spoon feeding one of the cats pudding. Then she asked if the game had started yet...while being 10 feet from the TV the whole time. What the fuck did I do?
9:39 - God dammit this Uconn team is fast with savage defense. I really don't see them losing as Andrew Harrison starts to pout like a bitch. Napier is killing it right now.
9:47 - Randle has to be hurt pretty bad. He looks terrible out there and is sitting again. Kentucky getting desperate and falls into a 2-3 zone. Fun unrelated fact: There has only been one white guy on the court all game. And he's not even American. Walt Behrman is pretty disgusted right now.
9:49 - YOUUUUUUGE three by Young, steal and dunk by Harrison. But Napier answers with a prayer from nearly half court. That was a pretty bad shot and Seal is probably tearing the linoleum off his kitchen floor with his bare hands.
9:54 - The three ball and Julius Randle's block party is really keeping Kentucky in this bitch. Only down 7. Seal starts rubbing the kitchen floor softly while apologizing to it.
10:00 - One minute to go in the first half and Randle gets his first basket. That's not good. Kentucky in the middle of one of their classic late first have tournament runs. Somehow Kentucky is only down 4 at half. Just saw a sign behind the CBS crew that read "Lawyer, Guns and Money. I have no idea what the means but it makes sense seeing that sign in Texas.
10:25 - Second half starts with a Harrison 3. Kentucky down 3 after Boatright breaks Randle's ankles.
10:32 - This Brimah goon looks like a more uncoordinated version of Dikembe Mutombo. What I'm saying is that he's not good. I love how guys get basketball scholarships just for being tall.
10:38 - Now Uconn gets desperate with the 2-3 zone. That charge on Poythress was fucking pathetic. He follows that bad call against him up with an even worse 3 point attempt. Missed free throws might be what kills Kentucky in the end.
10:42 - Kentucky is really protecting the tin. By my count the Cats have four million blocked shots in this game. Give or take a million. Under 12 timeout Uconn is up 5 with free throws coming.
10:49 - Kentucky is starting to fall apart........HOLY SHIT!! Young gives worse version of Mutombo a shiny pair of Arabian goggles. That dunk made me barf a little. Worse Mutombo looks like he's just a walking foul. Grab some wood there, bub. Your night is over.
10:52 - Nice shot of Romo and Witten stroking each other's schlongs. Those live shots from Lexington aren't really from Lexington. They can't be. I didn't see one person fucking a goat or finger blasting their sister. Uconn up 3.
10:59 - Kentucky pulls to one. I've been wondering all game how many of these Kentucky freshmen bolt for the NBA regardless of the outcome. I think Seal is the only one who watches this team enough to have a decent handle of that question. Maybe he can unshun himself and lift his commenting ban long enough to enlighten me. Kentucky can take the lead here...
11:02 - Harrison with the THREEEEEEEEEEEE. Brick. Guess the college three is too close for him. Apparently it needs to be NBA range for that lucky asshole. Back down the court for Uconn. Napier's three....wet. Uconn up 4.
11:07 - Harrison steals from Napier, gets fouled and blows the front end. Kentucky hanging themselves with these free throws. Down 6 with four minutes to go.
11:12 - Oh boy, this one's gonna be tight. Daniels puts Uconn up 6 with 2:30 left. Who's got the hairier peaches boys?? Uconn ball with 1:42 left.
11:15 - Daniels has completely sucked his own scrotum tonight. Playing his worst game on the biggest stage. It's cool though. I bet there aren't any NBA scouts watching this game anyway....Young pulls it to 4 with 54 seconds left.
11:17 - Poythress about destroys his life while getting undercut. This could be it after those Uconn free throws. A few bricks by Kentucky and Uconn wins it. Jim Calhoun is the house so you know he's packing at least a flask in that suit coat...let the party begin! Normally I stick around for the post game to document what is certain to be some hilarious interview moments by some really illiterate players...but I'm tired as fuck and it's bed time, cock faces. Randall out.