The Walking Dead needs her running from zombies ASAP
I decided to do a takedown of my infamous porn post, ala KSK and MMQB. It should be great...because porn. But also because Ribfest is this weekend and this is probably the most enjoyed post ever on this here site. Please load up the comments with any new information you have, any new hot porn stars on the scene, any new cool words/phrases that describe a sex act, and anything that Cakes might be found doing with his animals. Afterall, this is for you.
WARNING!

The following content may be offensive to you. If terms such as nutgobbler, cumguzzling, anal gapage, titty fuck, taint bomb, horse cock, reach around, prostate milking, finger blasting, muff diving, choad, Lucky Pierre(Dut's favorite), love tunnel, angry dragon, autofellatio(My Favorite), bust-a-nut bars, chocolate starfish, or felching are offensive to you, you will most certainly be offended by the following post. If so, take out your fucking tampon and keep reading. If not, get the google search ready and throw on a pair of woman's panties because it's about to get real freaky naughty.
What a fantastic day here at The Money Shot. Today, we talk about porn. Big titties. Fat asses. Thick mustaches(oops). I'm a sucker for the curves, so don't be mad when your favorite sixteen year old look-a-like girl isn't on here. It's porn, to each his own...you fucking pedophile. I'm going to give a crash course on everything that is porn today. So sit back, dim the lights, make yourself comfortable, and get back to fucking work you creep!
Mr. Ace's Top Five:
Note: This list is fluid--pun intended--because it just is. Nobody jerks it to the same set of chicks in the same order. Nonetheless, we all have our go-to's.
1. Gianna Michaels. This is a number one that you probably wouldn't see on anybody else's list, but fuck them. She has ginormous real tits. She could deep throat a Louisville Slugger. I imagine her getting pounded eight hours a day for work and then going home and having her own gang bang just for shits and gigs because she just likes to be slammed. She is not some blond bombshell, super hot porn star , but this isn't fucking Miss America. You need to be a performer to be my bottom bitch.
(
I still can't disagree with this. I don't remember the last time that I have seen some of her new stuff, as I am pretty sure she has her own site now and there doesn't seem to be a lot of free stuff coming around. She is still a filthy whore...in the most awesome way possible.)
2. Amy Reid. She is definitely the hottest porn star out there and she brings the nasty. Again, great natural boobies. Super fit. She is definitely DTF in every way, shape, and form. And she is German, so you know she likes the booze. She always sticks her finger in her ass and that is always awesome. But her porn star boyfriend looks like Powder and that's not cool...the only thing that kept her out of the number one spot.
(Yet another one that has seemed to fade away. On IMDB she only has two credits for 2013. After some research on her website and her Twitter-which I somehow wasn't following- she is pulling a Gianna and focusing on her own site and material. Not cool. Still a smokeshow)
3. Carmella Bing. Boooooooooooooobies! She used to be my favorite, but has fallen down the list slightly over the last couple years. Still top shelf, but she has let herself go a little bit. But that's the wonderful thing about porn, you can find the good shit anywhere. Even if she does resemble an offensive tackle right now, her old scenes are still out there and just as great as they were when I first saw them. Her Brazzers work should have earned her an Oscar.
(OVERRATED! CLAP CLAP CLAP CLAP CLAP! Almost immediately after this post I lost all interest in her work. My bad guys.)
4. Bree Olson. She has mastered the dirty little school girl routine and deserves to be rewarded for it...with a big load of baby batter. All I really have to say is
2008 AVN Best Anal Sex Scene Award
and you know what I'm talking about.
(MOST DISAPPOINTING TWITTER FOLLOW EVER! Oh, you're an actress now? Really compelling work in...Pirhana 3D? I think? SHOW ME YOUR TITS!)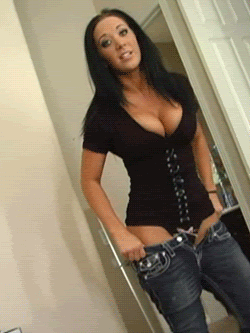 5. Jayden James. This was a tough one. She is easily deserving of a top five spot...but so are about ten other ladies. But Jayden makes this list simply because her body is fucking bangin'. Look at that shit. I would need images of dead kittens in my head just to last 1 minute with her. Her only downfall though, no back door fun...at least not that I've seen(And trust me, I've looked). I'm sure it will happen eventually and when it does, she goes right to the top of the list.
(GOOD LAWWWWWWWWWWWD! She is about as perfect as it gets. She would probably be my bottom bitch now.)
Honorable Mentions:
Ashlynn Brooke
Memphis Monroe
Claire Dames
Alexis Texas- Superbooty
Phoenix Marie
Hanna Hilton
...and many many more.
(This list really sucks now. Again, I'm not up on my porn game like I used to be so I can't even attempt to give another list, but a couple names who I think would be up there are April O'Neill(used to be a great twitter follow), Bonnie Rotten and Christy Mack(really enjoy following her and War Machine on the Twitter. )
Oh no, I'm not done yet. Now it's time to give a little break down of some of the more popular Subcategories of porn.
Ebony:
1. Lacey DuValle. Holy black jesus, she is fucking hot. As 2 Live Crew once eloquently said, "Big booty hoes, hump wit it! Let me see you touch the ground!" I imagine those lyrics were meant especially for Lacey DuValle. She is a lesbian by day, but she will do anything for pay...aka perfect.
Honorable Mentions:
Chavon Taylor
Aurora Jolie
(I have nothing to add to this. I know there are stars out there like Pinky and Jada Fire, but they just don't tickle my fancy.)
Latina
: Favorite Subcategory
1. Esperanza Gomez. Sweet goodness, she is unbelievably hot. She hasn't been around all that long, but she has quickly climbed to the top of my spankbank. Everything about her is ridiculous. My words probably can't do her justice, so I'll just let you fire up the google machine and come up with your own explanation.
Honorable Mentions:
Isis Love
Eva Angelina
Lela Star
(Pretty solid list...even though Lela Star turned herself into a circus clown right before I wrote this. The other three have held up quite well.)
MILF:
1. Holly Halston. Huge jugs. Blonde hair. You think, meh, typical porn star. Well you would be wrong, sir. Not only is she a machine in the sack, she has the hottest voice ever. There is only one MILF I personally know that can stack up against Ms. Halston...Nate B knows who I'm talking about.
Honorable Mentions:
Lisa Ann
Veronica Rayne
(Ave Addams is the hottest MILF out there right now. If you argue this you prefer multiple cocks in your b hole.)
Exotic:
1. Priya Rai. I have never tried curry, but I'm pretty sure all the guys reading this would eat it from her ass crack. She is straight out of India, which isn't something you see too often in the porn biz. Most importantly she squirts, a lot.
Honorable Mentions:
Umm...Asians, they all look alike.
(Asa Akira would beg to differ with my Asian comment and I can't disagree with her. She's a champion of everything dirty...as all Asians are. Priya Rai can still get it.)
Dudes:
That's right, I said dudes. I'm not afraid to admit that there are guys I would rather watch pounding snatch over others.
1. Keiran Lee. This guy is fucking hilarious. I don't know if it's just his English accent or what, he always makes the porn experience even better. I would totally hang out with this guy, no homo.
Honorable Mentions:
None, I have already raised enough questions about my sexuality with this.
(James Deen quickly vaulted himself to the top of my list of dudes. He has no problem choking a bitch, he's a good ol' #Merican boy, and he banged that one Teen Mom slut in the butt. He deserves all our respect.)
Squirting:
One of the most awesome and disgusting things all at the same time. A little bit is cool, but I don't want to feel like I just fucked Splash Mountain.
1. Mason Moore. There is just something about girls with huge knockers and tats that is awesome. Then you throw in she takes action in door number 2. Then you sprinkle some squirting on top. And you've got the ultimate porn star.
Honorable Mentions:
Cytherea
Flower Tucci
(Get home from work. Google search "Top squirting porn stars". Click on the Brazzers link. Thank me later.)
Classics:
1. Nina Hartley. This one was all G Money, "Personally, I am in awe that Nina Hartley is still getting slammed on camera well into her 50's. She's like the Satchel Paige of sucking dick." Well said.
Honorable Mentions:
Linda Lovelace
Jenna Jamison...I think she can be considered a classic now.
(I had basically no input on this category in the beginning and I can't really add anything now. Has enough time passed to make Jenna Jamison #1?).
Style:
1. POV. There are several ways to shoot a porn and none of them are bad, but there is one that is better than all the rest. Why POV? Because there are times when I feel like I should possess a 17 inch, black clam hammer and POV is the best way to make that happen.
Honorable Mentions:
Everything else.
(I probably could have stretched this out further into categories. Between teen, beejers, anal, amateur, and bestiality I am sure there are enough freaks that comment here to take sides. I lean more towards the amateur side nowadays...but you can't go wrong with a solid black dong POV. Or fucking labs like Cakes and Randall. I don't judge.)
Pay For Porn Sites:
1. Brazzers. In college, a kid on my dorm floor agreed to put a porn membership on his credit card as long as some of the guys would pitch in to cover the cost. Worked for me. That membership went strong for over five years until one day, one terribly depressing day, it vanished. Brazzers is the shit.
2. Bangbros. Their previews are awesome so their full content has to be, right? Right.
(I have never paid for porn in my life and have never even thought about it being a possibility. I still think the two mentioned are probably the best options. The only other one that comes to mind is Porn Pros...but just google what I told you to earlier and you will see why Brazzers is at the top.
Free Porn Tubes:
1. Youjizz. The name says it all. You watch, you jizz. They have an enormous selection. If you can't find any ammunition their then it's just not gonna happen.
2. Keezmovies. A bunch of categories. A nice porn star database.
Honorable Mentions:
Youporn
Pornrabbit...that's usually all the further I get.
(Like I said, I lean towards the amateur side when I do my surfing. Burning Camel and XXXaporn are solid options if that is what you go to as well. I haven't looked at keezmovies since I wrote this originally, so I assume this has been hacked and taken over by the Zips).
Now that, my friends, is what porn is fucking all about. You may want to bookmark this post, because it is awesome. Next time you are having an argument about porn, feel free to quote directly from this article and know that you will immediately be respected and revered. Hopefully you got a chance to read this while at home. If not, it's going to be really awkward walking around work with a boner.
(I feel sorry for G$ having to keep up with my greatness, it's almost not fair to him. Work boners are the best Again, please add to this list of incomparable porn greatness. Or be a fag. The choice is yours.)