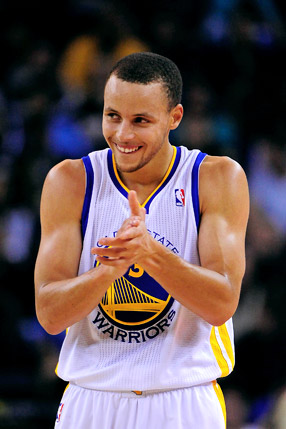 Stephen Curry likes my NBA posts...
It's NBA time, shit stains! No need to talk all things Dick Sherman again today since that is MOS DEF the hot topic still circulating. I'm sure Sherman has gained about a billion new Twitter followers so, mission accomplished shit heel! We haven't had a good NBA post here in awhile and with the season about half over, I figured now is the perfect time for some mid season awards. SPOILER ALERT! I nailed every last one of them.
Sixth Man of the Year - J.R. Smiff
Just kidding. Nobody likes this fuck and for good reason. Go die.
Real Sixth Man of the Year - Jamal Crawford
I almost considered Manu Ginobili but then I nut tagged myself and realized the only thing Ginobili deserves is a stern punch to the open anus. Plus he starts some games and comes off the bench others, so who the fuck knows if he's even eligible. I also considered Ryan Anderson and probably had him as the favorite before he nearly paralyzed himself a few weeks ago. It doesn't sound like Anderson will be back any time soon, or at all, so Crawford gets it.
Most LOL Storyline - Andrew Bynum
Why teams continue to chance it with this guy is outside of my brain capacity. Does every team front office guy forget this?
And this?
And this?
In a weird, sick and twisted way...I might actually miss Andrew Bynum when teams finally realize there is no such thing as low risk, high reward with this turd nugget. He is the best worst guy in the league by far.
Best Derrick Rose impression - Rajon Rondo
Never been a big Rondo fan for obvious reasons. He's a sour cunt bag who is just a prick for the sake of being a prick. Classic Kentucky guy. I get that there's no big rush to get back to a team that's a complete skid mark but stop it with the cryptic messages. I'll be back this day...no....this day....I mean this day....2,673,435 seconds. Or whatever that weirdo tweet was the other day. Nice to finally see you back on the court, princess.
Biggest Disappointment Player - Anthony Bennett
Ugh. Turd soup. Guys like Tyreke Evans, Anus Kanter, Josh Smiff and O.J. Mayo should be lining up to send Bennett thank you cards. No matter how shitty any player has been this year, nothing has out shined the shittiness that is Anthony Bennett. Nice #1 overall pick, Cavs.
Biggest Disappointment Team - Brooklyn Nets
This was easy. So weird that a group of pussies and old guys don't live up to insanely lofty goals set by idiotic media barf bags before the season started. There was no way this was ever going to work. And so far it's not. And I don't see it getting better, just worse. One thing that I do know for a fact is that I get the hardest, veiniest boner over Kevin Garnett being miserable. It's sports porn. No way this team makes the playoffs.
Breakout Player Award - Andre Drummond
He still eats dick scabs at free throws. And boy does he ever! In complete honesty, it's about the only reason to tune into Piston games at all this year. To LOL your balls off at Drummond's hilarious attempts at shooting a basketball while unguarded. Well, that and Josh Smiff chucking up 30 footers at will. But outside of the free throw woes, Drummond is an all out stud in only his second NBA season. The ceiling on this guy is off the charts right now. It's just too bad the Pistons won't be able to capitalize on such a great asset before he wants the fuck out of Detroit.
Congrats, You're Now a Super Star Award - Paul George
I remember watching this guy in the dunk contest a couple years back and thinking he'll never amount to anything more than Harold Minor. BABY JORDAN!! WHHHHHHHHHHHHHIFF on my part. George is awesome and impossible to hate on a team that's pretty easy to hate. Why do I hate the Pacers? Well, first because I can never forget the Malice at the Palace. And second, I guess I still detect a stench of Tyler Hansbrough when I watch the Pacers and that sours it for me.
Defensive Player of the Year - DeAndre Jordan
Board. Block. Dunk. Wash, rinse, repeat. Jordan makes people look like silly little bitches when they step to his doormat. And that doormat is 10 feet from the basket in any fucking direction. Jordan is an absolute savage on defense. Plus I will never forget how hard I laughed when he Arabian goggled Brandon Knight with the saltiest sack lunch this side of the Prime Meridian. Jordan's face as Knight fucking peeled his corpse off the paint is one of those LULZ moments for the ages.
Here it is again
in case you forgot how awesome it was.
Rookie of the Year: Michael Carter Williams
This guy's name sounds like a Disney kid star bound for a sizzurp addiction. MCW is hands down the rookie of the year at this point. The only other guys close are Trey Burke Sick and Victor Oladipo. Wanna read something funny? G$'s assessment of MCW in the draft preview:
G$'s reaction: You turd burglar! I TOTES was going to stick this waste of space on the Pistons! This guy can't play. I saw it at the Final Four. Thus he is a perfect Seattle King.
Those are the kinds of assessments that get you to the blogging big leagues! MCW > Kyrie Irving???
MVP - Kevin Love
Holy Shit. I don't give a rats ass if the Timberwolves won't sniff the playoffs this year. That shouldn't overshadow what Big Daddy Kev is doing this year. Every time Love laces up the biscuits it's 25 and 13. It's just a shame he's rotted away in Minnesota for 5 seasons and people don't get to watch him in action on the reg. I really hope Big White finds his way to a big market team and gets the LOVE (
HEYYY-OHHHHHH!!!
) he deserves. It's just astonishing what he does on the court.
Favorite in the East - Pacers
It's gotta be the Pacers at this point. They have more to prove than just about any team in the league and are playing like they're done being in Miami's shadow. They look like they want it more and LeBron has already checked out for 2014 free agency.
Favorite in the West - Spurs
Only to troll them. I'm hoping that in giving them such a high vote of confidence they will once again under perform when it matters. At some point this team has to rebuild, right? And wouldn't Spurs/Pacers be the most insanely boring Finals ever? The basketball equivalent to missionary sex. The 70 and over crowd would love it, I'm sure. They still wouldn't approve of the amount of blacks on the court, though.
I know how much you all have missed NBA posts. Especially Cakes. So consider your thirst quenched. If you need another NBA storyline to chew on in the comments, we can discuss LeBron's odd birthday message to his lover, Dwyane Wade. We all know how LeBron likes to be all cryptic with shit and that message sure sounds to me like he's bolting after this season is over. Where will he land? LA? Cleveland? Dallas? New York? Does he stay in Miami? My money is on Cleveland. As much as I would hate for it to happen, I think he really does love that city and wants nothing more than to bring all those undeserving fans a championship. The only good thing about LeBron back to Cleveland will be watching all of the spineless turd fans accepting him back with open arms after openly wishing death upon him a short 3 years ago. And watching Gilbert be a complete bitch while taking LeBron back will be a nice prize in its own right. That's my time.