Never Forget.
Hey! Paul Walker died in the most hilarious way possible on Saturday. In a high speed crash ending with the car completely engulfed in flames. I think that's how he would have wanted to go. Dripping with Fast and Furious irony. Cue the RIP Paul Walker Facebook posts from all the dip shits acting like they knew the guy. (Reader's note: I'm sure the Paul Walker death was already discussed but I'm too lazy to remove what I wrote so DEAL WITH IT) Today will be short and sweet since most everyone will just want to talk Michigan Ohio anyway. I was at my first ever Michigan/Ohio game and watched everything go down...so in everyone's favorite bullet point fashion:
Ohio isn't that good and would get absolutely fucking trucked in the national title game they'll be playing in since ROLL DAMN CHOKE JOB pissed in their own faces on Saturday. I'm not even going to rely on Sparty to beat Ohio in the Big 10 championship game since MSU is notorious for sucking shit in games that count for something. I can't wait to hear dildo nation defend letting one of the worst offensive Michigan teams since since the inception of the forward pass hang a 41 point dong in their faces. Luke Fickell let Al fucking Borges have his way with him all God damn day. Like a Vietnamese prostitute. Fickell never had an answer and was outsmarted by one of the dumbest offensive coordinators in the history of football. Just imagine what even an average coordinator would do to that defense in a national title game.
Going for two was the wrong fucking call. It was. IT WAS. I get that you're a 16 point dog at home and I get that you haven't been able to stop Ohio's offense all game. But they couldn't stop our fucking offense either. The message you're sending to your team is that despite 4 quarters of hanging with the most OVERRATED 3rd ranked team in the country, you're still not good enough to beat them in OT. You do that kind of shit on the road when you're trying to steal one. Not at home in a game where you've been the better team and have all the momentum. It was a call that said to me that they were scared that Ohio would win in overtime and you can't win that way.
After the game was over I saw an awful lot of Wolverine sportsmanship extended towards Ohio fans. And that really pissed me off. Don't twist this sentence. By no means do I want Michigan fans to act like complete fucking boobs and attempt to fist fight anything with a pulse wearing scarlet and gray. But don't suck their dicks immediately after such a huge letdown of a game and tell them they deserved to win....blah blah blah, horseshit horseshit horseshit. A simple, "go fuck yourself" or "suck a bundle of dicks" would be sufficient. Ohio fans already have no problem telling the world how awesome they are. They certainly don't need any help...especially from a fan base that is supposed to hate them.
This one hurt. A lot. More than any Michigan loss I can remember. But I still won't let it consume my entire life like Drew lets Ohio football consume his. The better team did not win on Saturday and eventually that turd covered rabbits foot Ohio had crammed up their shit pipes will get removed. And the fall from grace will be so fucking glorious. I've seen "moral victory" and "can't even be mad about this one" flooding my Facebook news feed. No. Go fucking fuck yourself. You can be mad and SHOULD be mad. We outplayed those fucks and lost. Two years in a row we outplayed Ohio for the vast majority of the game and lost. Saying that you can't be mad and celebrating some hog shit moral victory makes you a swollen, inflamed pussy. Just stop watching football if that's your take.
One last thing.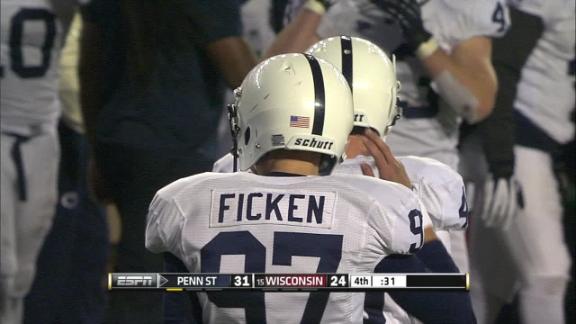 MAN! I'm tired of being right, Drew! That should drop Wisconsin far enough to make Ohio's poop schedule look even more poopy.


Like I said yesterday...it looks like Ohio fans will need to find something else to bitch about now that they're number 2. But DO NOT FRET! We already found something else for them to cry about. From the sounds of things, as long as Auburn wins the SEC championship game, there is a good chance they leapfrog Ohio in the BCS standings and play in the national championship game. Hooooo boy would that move ever decimate the Internet. They great Internet crash of 2013 led by none other than BradyCakes himself. So it looks like we can officially get back to Facebook posts and Tweets from dildo nation begging for another team to lose in order for Ohio to get to a championship game they don't belong in. CAN'T WAIT!! Oh...and FUCK YOU CAKES!