About sums it up.
So Wheelz got shoulder surgery yesterday to repair something something something and something from her car accident. Doctor lingo...whatever, dude. I'm not impressed when you throw medical terminology at me. Anyway, that means that I get to take 3 days off work this week to help her recover. Translation...lay around in my underwear on the couch and sky hook mini bags of Cheetos to her when she gets hungry. Wheelz can get shoulder surgery every month for all I care as long as it gets me out of work for a few days. Plus I shot some pretty hilarious videos of her high as balls immediately following the procedure. In her inebriated state, I almost had her convinced there were complications and doctors had to remove some of her fingers on her left hand. I'm awesome at being married. Let's dig in.
Ugh, Michigan. Christ, that was fucking ugly. Good thing I wasn't subjected to watching that flaming pile of bloody stool as I was rounding off football wedding season on Saturday. And it was a good thing I snuck in my flask of rum
plemintz
since, you know, having a no liquor wedding reception is still a thing. WUT?! I'm sure the bar tender caught on somewhere between my 9th and 15th coke ordered since
Forrest Gump
is the only one who drinks non spiked pop in that sort of volume. Speaking of good things...It's a real good thing Fitz Toussaint opened his douchy fucking mouth the week leading up to this game. He REALLY backed it up with that stunning 2.5 yards per carry. Let this be a lesson to you loud mouth skid marks out there. Don't fucking tap the aquarium. Welp. That's our season. All that's left is to hopefully beat Ohio and finish out the year playing in the Outback Bowl. Yay.
And in other news Ohio finally didn't struggle against Purdue for a change. Way to exorcise that Boilermaker demon, guys. Good work on blowing out a 1 win team.
Can we all officially LULZ at Northwestern now? First for STILL not having a Big 10 win after Cakes publicly fellated Patty Fitz and the Fighting Greenbergs on Facebook after taking Ohio to the limit. At some point you have to stop making excuses for a team you know isn't any good. Cut the cord, you guys. And second, for these God awful things.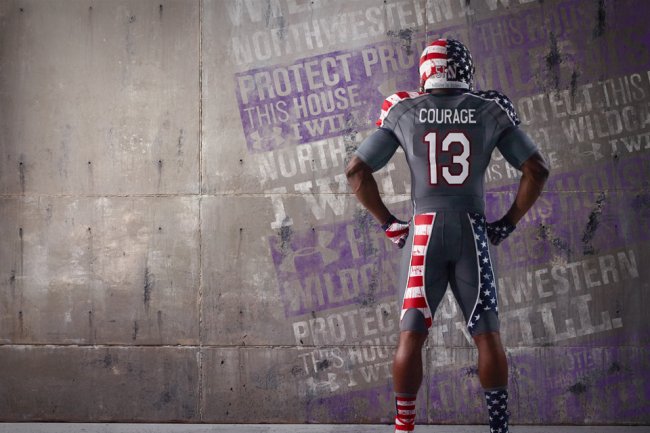 Mother of fucking mercy. It looks like the Statue of Liberty had an abortion and they turned it into a football jersey. Maryland players love it...because now they aren't the only one that look like complete fucking jackasses on Saturdays.
ASU head coach Todd Graham has some iron sack pellets, man. He and his son were on a recruiting trip over the weekend when the plane they were both in lost control and plummeted 25,000 feet on a dive before the pilots were able to level it back out at about 10,000. The story is right here so you can get the details.
http://espn.go.com/college-football/story/_/id/9927601/scare-arizona-state-sun-devils-todd-graham-plane-plummets-25000-feet
But the part that just fucking stuns my tits raw is how this crazy dickwad gets BACK ONTO A FUCKING PLANE A FEW HOURS LATER. Uhhhh, fist yourself. I'll be getting a rental car and driving the rest of the way, thankyouverymuch. I don't give a sweet, hariy fuck where I'm at in the country and how far away from home I am. Car. Now.
Anyone in the country (all Ohio fans) expecting a Florida State upset were sorely disappointed, Saturday. Good. FSU looks pretty for real and is almost a lock to play the most beatable team in the country, ROLL DAMN TIDE, for the national title this year. Miami lost more than the game (and pride) as Duke "Silver" Johnson will watch the rest of the season on the sideline after suffering a broken ankle. A real broken ankle...not the one Devone Bess administered to Ladarius Webb on Sunday. This is about the worst thing that could've happened to a pretty good Miami team. They'll probably suck balls now.
Speaking of Miami...Top douche toilet of the week and former DA U defensive lineman Dan Sileo was shit canned from his radio job this week for putting a Twitter bounty on FSU defensive tackle Timmy Jernigan. This is why other countries think America is full of retards. Because walking, talking dog turds like Sileo never learn from the multitude of other people in his profession who have lost their jobs for being sacks of shit on the air or on social media. Now this fucktard is hitting Twitter again bitching about the death threats being made toward him and his family and how the original bounty tweet was merely a joke. Sure it was. Get fucked for eternity.
God. How shitty is Notre Dame? How much worse are their fans? Cakes did get one thing right last year...those bastards sure do like to vanish. The Irish are 7-2 so far but by how invisible their fans have been on social media this year you would think they're fucking 0-9. Way to sneak one out against Navy, guys. Almost as pathetic as barely beating Akron....and Uconn. Fuck my life.
There really wasn't much to report this week as no major upsets went down. This post will be one paragraph light today since fucking glory hog, G$ can't let a motherfucker do his God Damn job and report hilarious drug use by college coaches who are well into their 40s. Have some faith, man. Anyway, Wheelz is doing fine and will be back to nagging me about the attic in no time. Enjoy, fellers. FUCK YOU CAKES!