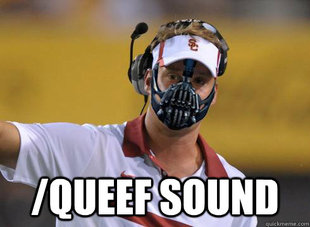 In honor of Lane Kiffin. And for Prime. He gets so hard for Bane Kiffin.
Bear with me today as I mentally recover from Cakes trying to convince the general population that Brian Hoyer is the answer to the Browns playoff prayers yesterday. Fucking Christ. That conversation made me want to swan dive into rush hour traffic. Nothing super exciting over the weekend to report. Wheelz and I took a weekend off of heavy boozing to watch
Prisoners
. Tremendous movie from start to finish and worth a trip to the theatre. Seriously...it was fucking sweet. The rest of the weekend was spent texting my brother and ripping on him for willingly attending some techno fest in Atlanta. If you hate yourself enough to know more about this event filled with shitty techno music and hippy queers juiced up on E while rubbing their assholes on the grass, just ask Cakes about in the comments. I'm sure he knows all about it. That is if he can type over his techno erection. Now for some football.
Those who had Lane Kiffin getting fired after week 5, come collect your prize. Honestly, this move doesn't surprise me. Kiffin has been a jar of afterbirth since arriving in Southern California to replace gum chomping Pete Carroll. Seriously...have you ever seen that fucking horse's ass
chew gum
? It's infuriating. Anyway. Much like Mike Tomlin, I've always wondered why everyone always sucked the ball hair of Lane Kiffin when it came to coaching skills. He's never been that impressive. And if you can't find a way to bring in top talent to the pussy lagoon also known as USC, then you have no business coaching in division I, period.
I don't know why so many Ohio fans were nervous about the Wisconsin game. That reeked of an Ohio blowout from the start. It's not like Wisconsin was all that good to begin with. In case you need a reminder of how not very good Wisconsin is, I offer you
this
. Equal parts hilarious and shitty. Here's the part where all the Buckeye fans pound their chests about Braxton Miller's performance. Sure. He played well. Now let's see if he can build on the impressive 4 quarters played without getting hurt. IRON MAN! Because if you remember (Ide), the argument was never about talent. It was about his moist vagina.
It was nice having a weekend not worrying about which shitty zero win team was going to take Michigan down to the wire. Especially on a weekend I wasn't drinking.
I see Oregon continues to pound people's butts. Maybe the Ol' Chipster is replaceable after all. Or maybe Chipster did a bang up job of making sure the cupboards were stocked before he left. I don't know. It just feels like no one is really talking about Oregon that much this year. Except Colon Cowfucker. I'm sure he shows up to work every day in his Oregon Ducks thong with matching boobie tassels.
So it looks like Georgia turned out to be pretty good. You really can't argue with what they've done so far. I think it's criminal they're ranked only 6th right now in the polls. Three of their 4 games have been against top 10 schools and they've won two of those three. The top 3 should be Alabama, Clemson and Georgia. But I'm sure as soon as people start respecting Georgia in the polls they'll lose to someone stupid. That's usually how it goes down. I think someone here picked the Bulldogs to play for the title and right now it seems more possible than not. I can't wait for the Browns to trade back into the first round to get Aaron Murray in this year's draft. It's gonna be so cool.
Notre Dame losing always makes Saturday better. It's crazy how I don't see nearly as many Notre Dame fans on social media this year! WEIRD!! It's about time Notre Dame's shitty play caught up with them. This team is not very good and should have at least 4 losses by the end of the year. I know they aren't good because they lost to Michigan...who is not very good. Shit. They should have lost to Purdue and Michigan State this year too. Brian Kelly should be joining Lane Kiffin in about 2 more seasons.
Who the fuck needs Geno SMIFF?? The only reason I'm putting this game in here is because it was the only real major surprising upset. But if I hadn't mentioned it...would you have known? Probably not because this has to be one of the most boring upsets in the history of college football. No one really give a hillbilly fuck about either of these teams.
Finish strong. That's what I always say. Next week's college football post should be just as bad since I'll be in BELIEVELAND for my friend's wedding. She's Serbian so I'm sure there will be a slivovitz fountain set up somewhere in the reception hall. Once of three weddings I have this month. Yeah...you read that right. Fucking THREE weddings in October. Right in the middle of football season. I hope you like my wedding gift, everyone. You're all getting the same thing. It's a box with "Fuck You" spelled out with a few of my fresh turd nuggets. Seriously...who the fuck gets married during football season? A bunch of assholes, that's who. That's my time. Peace out, dick chuggers.