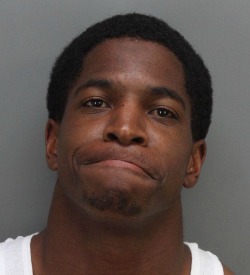 /fart noise
I know this is going to shock the fucking shorts off you but Stan the Mangina never emailed me a post idea like I requested last week. I guess it's easier to be a cunt in the comment section about how much a post sucks than to actually come up with a useful idea. Back to cranking your pole with handfuls of your own feces, StanGina.
We'll stick with the football theme today, shit birds. With the NFL season nipping at our pubic hairs (about 3 months away) there are a handful of big name free agents yet to land a team. Some can still play...some need to be dragged out to the woods to be shot. Let's take today to explore the best options for the guys with juice left and where they will end up.
Michael Turner - I'm sure Turner has spent the majority of the off season hip checking kids slowing down the buffet line at CiCi's. Never get between a chubber and a 24 foot pizza buffet line. Even though Turner probably swims with a t-shirt on, he's still got some Bavarian cream left in the tank and can be a serviceable goal line back for some teams out there.
Where he lands: Dallas. Because Jerruh loves "names" and Dallas' backfield is pussy farts.
Ahmad Bradshaw - It's too bad Bradshaw's feet are made of wet paper and soiled kitty litter. Because if this guy could ever hold up for a full season he would be a fucking stud. But this is reality and the IR is warming up a spot for this black dude with a Muslim name. He's best used in a time share and even then there's no guarantee he'll make it for 16.
Where he lands: Miami. Because if your starting RB is named "Lamar" you need all the help you can get.
Chris Wells - Speaking of pussies. The best part about Chris is how he's been a complete bitch his entire life. He's the bully at school who appears super menacing until someone spills the beans that he still wets the bed if he drinks anything after 8PM. And that he still wears footie pajamas to bed. He's going to get another shot because he's still young and for whatever reason people still buy into his bullshit.
Where he lands: As a Tampax sales rep. LOLZ. But for real...maybe St. Louis. They don't have much at RB since Steven Jackson was shown the door.
Brandon Lloyd - I'm honestly shocked Lloyd has generated almost zero buzz on the FA market. He's the best available FA out there and is TOTES better than average. If he can get almost 1,000 yards in New England where they spread it around like Drew does at a Red Wings themed gay bar, then you know he's got skill. Lloyd doesn't quite have number 1 chops but I think he would be a top 5 number 2 and a steal at this point.
Where he lands: NY Jets. Because it's the only team interested. But he should go to Washington to improve their ass receiving corps.
Titus Young - Just kidding.
Where he lands: Jail. He's going to be in jail. And he's horse pies. Always has been.
Dwight Freeney - This is another guy I'm stunned hasn't signed yet. I think Freeney is still one of the best at his position and just knows how to get to the QB. Whatever team signs Freeney is going to be happy they did. Dude's got a lot left.
Where he lands: Denver. Because he misses the smell of Peyton Manning's crotch sweat.
Brian Urlacher - For some reason I love how the Bears just dragged Urlacher out to the curb with the rest of the trash. Despite his hilarious Old Spice commercials, Big Bry always came off as a grade A cock sucker to me. Prime disagrees, I'm sure. The best was how he acted "insulted" by the Bears 1 year 2 million dollar offer. Sorry, dick breath. Thirty five year old linebackers with catcher's knees don't get to negotiate. Even though he played hurt last year, Urlacher just looked like he was done.
Where he lands: Minnesota. Because the Vikings love trolling the fuck out of the NFC Norf.
Charles Woodson - Woodson's problem has always been health. The guy can still play at 36 and still broke Ace's cousin's neck in high school. If Chuck does nothing but drink whole milk directly from a cow's teet all off season then maybe he has a chance to play a full season. He's been forced into a safety roll these past few seasons because he's lost a step. But he can still beat Cakes in the 40 by 2 full seconds and would be a nice veteran to have in situational downs who brings great leadership qualities. But yes...he unfortunately is a swollen pussy.
Where he lands: I'm still saying New England even though the market has been bone dry for Chuck. The Pats usually take a stab at guys like this.
That's all for me, gents. Let's see if this post lives up to the LOFTY expectations The Biggest StanGina has for this Pulitzer winning free Internet blog run by guys with full time jobs. Jobs that aren't journalism related. Feel free to discuss players I didn't mention as there are a shit load of popular names floating on the FA market right now. And as always...don't forget to LOLZ at will at Titus Young's 3rd arrest in one full week. Nice life.