Bad news: Out for the year. Good news: He finally knows what a pussy feels like.
Over the weekend I ran into a curious predicament. One that really made me put the thinking thong on. I've already asked the opinion of a select few from the comment section so I'll open up the situation to see what the consensus is here.
The sitch:
My fantasy basketball team is already in the playoffs and cannot improve in playoff seeding regardless of what plays out in the last week of the season. The team I'm facing in the final week (started yesterday) is the 5th highest scoring team, barely checks their roster and needs to beat me in order to make the playoffs. Meanwhile, the top scoring team is facing the 4th highest scoring team. The winner of that match up is in the playoffs and the loser is out as long as the team I play beats me. If I win my match up then both teams from the other match up both make it no matter who wins in my match up.
The question:
Do I purposely tank my match up to get a weaker team in and keep a stronger team out? Or...do I play it out like I normally would and let the fantasy gods determine the fate of the teams involved? SUB question...Is tanking on purpose dirty, shady, insert negative connotation here, or perfectly legal and socially acceptable?
For the record here are the responses I've received.
Iceman - TOTES fine to tank. I'm just improving my chance at winning money. It's strictly business and if you really deserved to be in the playoffs you should have handled your own business earlier in the year when you were losing to bottom feeders. You're in that position for a reason and deserve to be at the mercy of the court. MY fucking court.
G$ - Bad Karma. You should fear no other man.
(a man of few words and fewer brain cells and still fewer testicles)
BradyCakes - All is fair. As long as you're not releasing top players for others to pick up
(not sure why my playoff bound roster would be doing that but we are talking about BradyCakes, here)
I think it's all good. Dick move but legal. Someone will probably be pissed at you for it but whatever. They should have won another week to stay out of that scenario in the first place.
(It should be noted that Brady then told me he was getting back to his "2 Broke Girls" marathon).
Prime - Pretty dirty but who cares?
(Not a lot to say for commenter of the year. Pretty uneventful response if you ask me)
So what do the rest of you think? I'm seriously curious where everyone stands on this issue. For all of the fantasy sports we play collectively here, I'm sure there are vastly different opinions and I would love to know what you think and why.
In other news: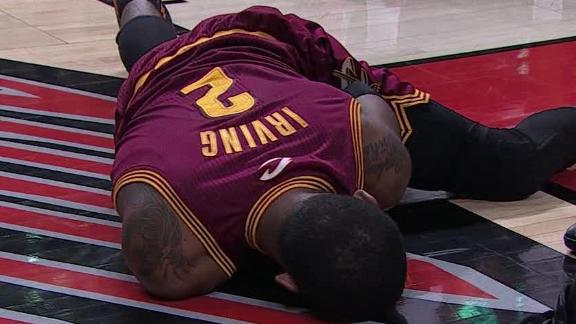 Suck my shit, G$. This is what happens to the trollest of trollies. You may seriously think that Trey Burke sucks because you huffed to many Kevin Milius farts in high school, but at least Burke's body isn't forged from the deteriorating vagina skin of Betty White. The Cavs should make Irving wear a fucking dress for these next 3-4 weeks he's out being a dripping wet gash. Is Irving ever going to play a full season? Is Commenter Drew right when he says that Irving's whole body is made from Greg Oden's knees? Do the Cavs spend a lottery pick on Trey Burke SICK so they can finally have a real PG with real man balls and huge guy cock? Will the Cavs be more aggressive to sign Greg Oden so Irving has an ice bath buddy next year? Does G$ TOTES deserve this? Can we finally all agree that Pussy Irving is injury prone? This is the best set of news I've heard in awhile.
Speaking of pussies and total dick bag shit lickers...Chris Wells was released yesterday! HOOOO BOY! What a career so far by a guy I'm sure BradyCakes anointed as the next Earl Campbell upon leaving Columbus for the NFL. Only 24 years old and already time for the glue factory. At least he has that Origami degree from Ohio University in Columbus to fall back on. Unless you can name an NFL team in hot pursuit of a fat, slow running back with creaky knees and zero pass blocking ability. I know...there's probably a lot of them out there! /fart noise.
Two things about this Harvin deal First...people need to stop saying shit like "so and so is untradeable or we will not trade this guy". Every fucking person has a price and it's just a matter of whether or not there is someone out there crazy enough to meet your demands. You just look dumb as shit when you say Percy Harvin will not be traded, then trade him 6 months later. Oh...and the reason Harvin wanted out is so LOLZ. He claims Ponder sucks and wants a better QB. Yeah, Ponder does kinda suck but I wouldn't be brow beating a guy who had you on pace to catch 111 balls last year and helped you reach your best statistical year to date. Second...Seahawks are gonna be pretty God damn sick next year. I'm sure they're Cowfucker's preseason Super Bowl favorite. Lock it up.
The 49ers love old wide receivers with deteriorating skills. Welcome to San Francisco, Anquan Boldin. You're the new Randy Moss with less West Virginia. And that was a total BRAH move by Ozzie Newsome to score at least a 7th round pick for a guy they were going to release anyway. CLASSIC!
That's all I've got, boys. Feel free to discuss other NFL off season moves like the Redskins cutting the BEST GOD DAMN DB IN THE FUCKING LEAGUE DeAngelo Hall or the Pats trying to sign future murderer Aqib Talib to a long term deal. And please let's not forget to repeatedly remind G$ today that terrible things happen to terrible people who constantly troll great players like Trey Burke SICK.
REAP IT!