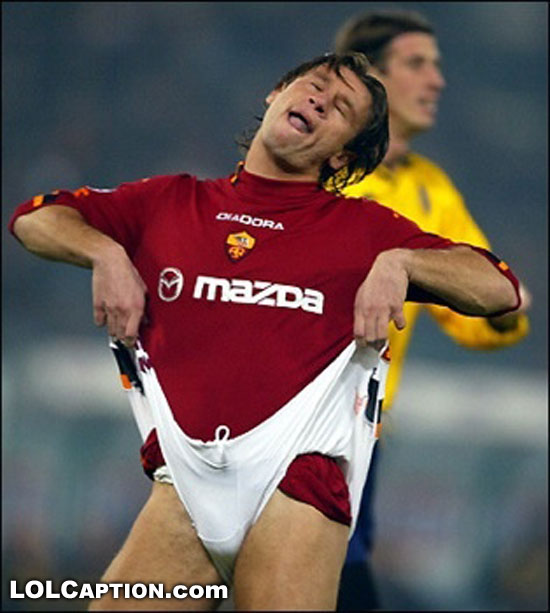 I Google'ed "soccer is for queers" and this came up. Fitting.
It kinda sucks hairy wankers writing this time of year. Not a whole lot is happening right now unless you really care about Bill Stewart heart attacking on the golf course and dying. And there's probably a large majority of people who don't even know who the fuck that is...for good reason. So I'm just gonna grab bag it here and throw some topics out for discussion. Maybe if baseball wasn't for fuckin queers I would have something better to write about.
I'm really starting to side with Drew on the whole Facebook thing and have given heavy thought to just deleting my account. This shit's starting to get real old. Between infuriating duck faces, Facebook super moms, grammar police, random pictures of the probably terrible dinner you made yourself and posts about how big of a fucking disaster your life is, I've almost had enough. Honestly about the only thing that's keeping me going is a handful of people that manage to find Internet gold to post on my wall. My brother Jordan and Prime are two of the best at that. Keep it up fellas.
Stan VanGundy was fired yesterday. Personally I think that's complete horseshit. I've always like SVG and thought he never got the credit he deserved for what he did with that team. It was Dwight Howard and a handful of average guys he turned into a pretty ELITE squad. And why the fuck would you fire your coach if the guy who wanted him fired isn't even going to be on the team next year? That's like getting rid of your car because your high maintenance, bitchy, cunt faced GF doesn't like they way it looks or smells, or runs or maybe the seat fabric disagrees with her high societal pussy skin...then she dumps your pathetic ass a month later. Now you're fucking stupid AND car-less. On the flip side of that, Otis Smith was rightfully terminated. I'm surprised he kept his job for as long as he did after trading for Vince Carter and Gilbert Arenas. I would say that's an instant death sentence. Remember when Arenas was considered a superstar? God...those were funny days.
Raise your hand if you want Roger Clemens to go to jail. I could give a fuck about baseball but Roger Clemens going to jail and essentially putting himself there is more LOLZ than Curt Schilling being broke because of a video game. I can't wait for the Roger Clemens prison sex porno to hit the interwebs. I also can't wait for him to misremember getting hollowed out by
Nasty Nate
.
I read
this
last week and absolutely lost my fucking mind. Fuck you, lawn ferries. Fuck your stupid fucking boring game that is in actuality just a bunch of Euro-trash fuck wads sprinting around for 2 hours...or however the fuck long those dick sucking competitions last for. This is the reality. In the near future, this fad will die and soccer will go back to being bumped for a show about periods and ovulation on the Oxygen network. Soccer is a expendable. It'll be a sport outcast again in no time for all of the reasons mentioned at the end of this article. Unless you played soccer, it is IMPOSSIBLE to enjoy watching games on a regular basis. And since America does a pretty good job of making sure we don't grow up to be pussies, most young kids choose football over soccer. Eventually soccer will be phased out the same way that televised poker was. Fucking douche bag soccer faggot. I hate the guy who wrote that article so much.
Don't blame me for this mail-in post. Blame the sports dead zone we're in. Blame baseball for being sucky and unwatchable. Blame the HarBRAH's for not showing up in Toledo to give me more material. Blame G$ for making me write twice last week. But most of all,
BLAME CANADA
!