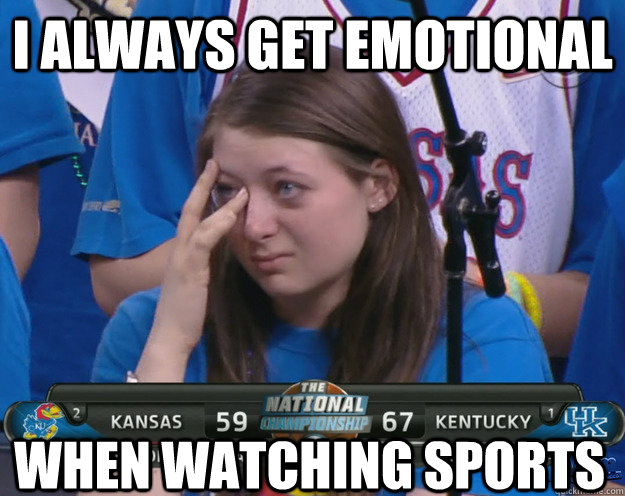 "These last 3 months of being a Kansas fan have been EXHAUSTING!"
Let's see if I can piece something interesting together today. I think I may have broken my brain yesterday with the massive amounts of alcohol I consumed. My guess is it had something to do with the 32 oz. mixed drinks I started pounding at 2PM. But you will all be happy to know that I achieved my goal of being a retarded mess by 10PM. The GF wasn't as proud of that as I currently am. Thank you Memorial Day weekend for allowing me the opportunity to drink like a college kid again.
Oh. And while I remember...go fuck yourself Facebook for those stupid fucking posters getting plastered all over by mindless mouth breathing shit eaters. Thanks for the reminder that Memorial Day isn't National BBQ day because I almost fucking forgot the purpose behind this holiday. Fucking cunts. Just because we like to grill out when the warm weather permits us to does not mean we have gone completely fucking brain dead and have successfully mentally erased the true meaning behind this holiday. What would you rather I do to celebrate? Dig a foxhole in my front yard? Rig my property with land mines? Build a sniper tower? Watch the Band of Brothers marathon dressed up like General Patton while randomly barking out racial obscenities? Rip off my own 21 gun salute in the middle of Central Avenue? Go stab a Korean with a home made bayonet? Jesus Christ, people. Stop being so God damn uptight. No one's disrespecting the military and those who sacrificed for our freedom by eating four hot dogs then getting blacked the fuck out drunk. So we certainly don't need "motivational posters" letting us know how despicable you think we are. So once again...get fucked. MAN I feel better. Wooo!
Fuck it...let's just stick with ranting today. I noticed this yesterday and really never knew how much this shit bothered me. I'll set the stage. Yesterday as I was trying to rid the world of it's alcohol overpopulation problem, a few friends came over to help me fight the good fight. Teamwork, right? So...let's call him Randy...comes over and instantly grabs the remote and changes it to the Tigers game. I didn't bitch because it was a lot better option than the mind rotting trash that was on before that my GF happened to be watching. I don't remember exactly what the show was...I just remember blowing off my own fucking testicles with a potato gun sounded like a better scenario. At that point, I welcomed the baseball match. I think the Tigers were up by a point.
So about five innings in, Randy's girlfriend (let's call her Bridgette) sits down and starts watching the game with everyone. Now, I've known Bridgette for about 2 years now and the one thing she hates more than common sense and rational deductive reasoning is all things sports. And when I say hate, I'm talking hates sports more than I hate poison. And I don't think I need to tell you all how much I hate poison. All of a sudden, Bridgette stands up and starts violently shouting at the TV when some terrible player hit into a double play to end the inning. After that she keeps telling Randy to check out the replays and attempts to break down the plays with Costas like
precision
annoyance. I was flabbergasted.
Now...I'm all for girls enjoying sports. Hell, I encourage the fuck out of that shit. I've successfully turned my GF into a Browns fan so I have someone to be fucking miserable with until the day I die. I've even convinced her to join a fantasy football league I'm in (pretty damn proud of that one) so I can essentially get back from her all of the money I've spent on her over the last two years. I know...I'm a pretty incredible guy! But here's where I draw the motherfucking line. Do NOT act like you've been a fan of that team since birth and pretend to care to the point where you get bulging vein, red faced screaming at the TV when we all know in 45 minutes you could give a flying fuck about the outcome of that game. You've only been watching this sport for as long as you have been with your current boyfriend. So how could you possibly care on the same psychotic level as said boyfriend does in that short amount of time? It took all of us YEARS to perfect raving lunacy about our teams. Acting like you've achieved that status in a year and a half is just fucking insulting. To everyone. Just because your boyfriend gets that way doesn't mean you have to get that way. We (at least I do) actually prefer if you don't get that way. Be the silent wallflower. We need someone to balance us out. There's only room for one loud mouth, overly obsessed crazy fucking idiot when it pertains to sports in a relationship. Any more than one and you'll end up fist fighting the person you're with once emotions start running a little hot.
But here's the main reason you don't do that. At some point this will happen: Awhile back I was wearing a Michigan football t-shirt in a bar and this cunty fucking whore prances up and starts talking shit to me about how Ohio is better. She was sure to add that she's an Ohio fan because her boyfriend is. Like you needed to tell me that. That fact was more obvious than a banana being dick shaped. So. Being the equal rights kinda guy that I am, I instantly started letting her have it from every angle. You talk shit about my team...I'm defending them. It's how most of us are wired. DEAL WITH IT. So what does she do? She runs off and fuckin tattles on me to her boyfriend. Then he has to play Mr. Tough Tits and confront me about it. My closing argument was simple: I said, if you don't want me verbally embarrassing your girlfriend in a crowd of several strangers, tell her to keep her mouth shut about shit she has no clue about. At that point I think it started to make sense to him and he shuffled off to give her a lesson in shutting the fuck up. Don't be that girl. You just look stupid when you put your 18 month sport knowledge up against a grizzled vet of 15+ years. And you could potentially get your boyfriend's shit kicked. So fucking stop it already.
And one final thing...if you're going to pretend to get all bunged up when your fake favorite team isn't playing up to the absurd lofty expectations you've set for them...at least scream the right name. Loudly cursing BRIAN Raburn's name makes you look like an even bigger shit head than normal. Because no one knows who the fuck Brian Raburn is. Because he's NOT A REAL FUCKING PLAYER! Well, I guess you could make the argument that neither is Ryan Raburn. According to Tigers fans, he sounds pretty fucking worthless. Holy shit, guys. I feel so much better. We need to do this more often. I hope you all enjoyed your National BBQ day as much as I did.